Recent GenX Results
11/13/2017 11:20:00 AM
---

Brunswick County GenX Test Results

Bolivia, NC – Brunswick County has received additional results of testing for GenX in the water supply. Samples taken on Oct. 26 revealed levels of 39.5 parts per trillion in the Northwest Water Treatment Plant's raw water source, and 38.4 parts per trillion in the finished water source.

NC Health and Human Services has established the health goal for exposure to GenX in drinking water at 140 nanograms per liter (also referred to as parts per trillion).

More information, including test results for other perflourinated compounds, can be found at http://www.brunswickcountync.gov/genx/.

Slide Show on Town Projects
11/9/2017 8:48:00 AM
---
Boy Scouts install birdhouses in Westgate Park
11/7/2017 3:31:00 PM
---

Boy Scouts Build Homes for Bluebirds in Westgate Park
Leland, NC – On Thursday, November 2, Leland Boy Scout Troop 747 and Arrow of Light Den/Pack 747, in cooperation with Leland Parks and Recreation, installed twelve birdhouses at Westgate Park. This project is part of an ongoing initiative to encourage birds and wildlife to inhabit Leland parks and add educational opportunities to the outdoor classroom at Westgate Park. With materials provided by the Town of Leland, the scouts of Troop 747 and Arrow of Light Den/Pack 747 earned merit badges while learning skills as they constructed the houses designed specifically to attract nesting blue birds.
"We are looking forward to seeing all the new "homes" up in the park. The boys' initials were burned on the side so they can find their house and show off their work to family and friends. This was a great experience for all of us, and I'm thrilled we were able to do this project for the birds, and for our community. These opportunities really have a positive impact on our Scouts and our organization." said Kate Gennaro, Arrow of Light Den Leader, Pack 747 Leland.
Troop 747 includes Scoutmaster Dennis Harp, Asst. Scoutmaster Scottie Zimmerle, and participating scouts Gregory, Micah, Bryndan, Kweli, Trevor, and Dean. Website: https://sites.google.com/site/troop747leland/

Pack 747, Arrow of Light includes Cubmaster Ken Kasten, Den Leader, Kate Gennaro and participating scouts James, Julian, Parker, Colton, Zakary and visiting Bear Cub Scout Khalil. Website: http://pack747leland.com
Westgate Nature Park is located at 1260 West Gate Drive, occupies 150 acres of wetlands and uplands on the south side of Highway 17, and currently features a paved hiking/biking trail, elevated boardwalk, scenic outdoor classroom, a state-of-the-art playground, picnic area, event lawn, parking, lush landscaping, utilities and associated amenities. http://www.townofleland.com/recreation-parks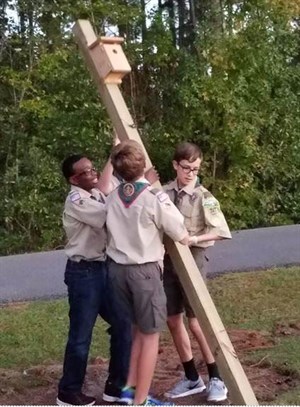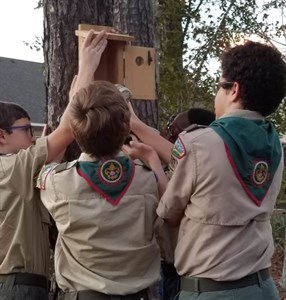 Magnolia Greens Sewer Spill Plan Developed
11/6/2017 11:25:00 AM
---
LELAND AND BRUNSWICK COUNTY UTILITIES DEVELOP PLAN AIMED AT REDUCING MAGNOLIA GREENS SEWER SPILLS


LELAND – The Town of Leland, Brunswick County Utilities, and Division of Environmental Quality have developed a plan that could potentially improve issues with sewer overflows related to Lift Station #3 in the Magnolia Greens neighborhood. This action plan comes after the results of an initial study by SEPI Engineering that showed a previous agreement between participants in the regional system could be modified that would allow the Town to increase its pumping capacities into the regional system and thereby reduce the potential for sanitary sewer overflows in the Town's collection system.

When not operating at their full potential, the Town's pumps have not been able to overcome opposing pressures within the Brunswick County Regional Transmission Pipe system at certain times, thus resulting in the potential of water backing up in the system and overflowing from manholes in the area. The original 2009 agreement reduced the Town's pumping capacity in order to address overall system capacity issues within the Brunswick County Regional Transmission System.

The Town of Leland and Brunswick County, in cooperation with other participants in the regional system, plan to continue to evaluate the system over the next six months and will make adjustments as necessary to alleviate overflow issues while maintaining the integrity of the wastewater transmission system. The staff of the NC Department of Environmental Quality (DEQ), Brunswick County, and the Town met to discuss the system concerns and the Town will continue to inform and work with DEQ on the progress being made.

For additional information regarding the actions taken, contact Public Utilities Director Jimmy Strickland at 910-332-4651 or e-mail

/blog/

.
Helpful Information on Opioid Epidemic
11/6/2017 11:01:00 AM
---
This guide features information and resources you can use to protect your loved ones from the threat of opioid addiction. Decades of over-prescription, along with wide-spread misconceptions about drug addiction, have led to a shocking rise in overdose deaths. The devastation is pervasive, leaving families of every type and communities of every size grieving and searching for answers in the wake.
https://www.sterlinglawyers.com/opioid-epidemic-psa/