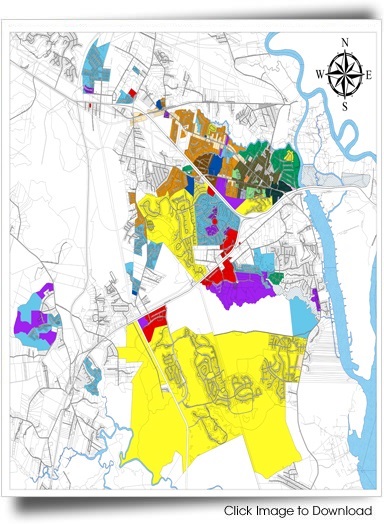 ---
Planning Department Mission Statement
It is the mission of the Town of Leland Planning Department to provide professional and technical guidance to elected officials, appointed board members, town management, town departments and citizens in all matters related to future and current land use. The department strives to preserve the health, safety and well being of Leland's citizens by promoting land use practices and techniques that will ensure the Town of Leland continues to be a quality place to live, work and play.

CODE OF ORDINANCES
---
UDO Flexcode
Planning staff is currently working on implementation of the Town's adopted Master Plan in the form of a Unified Development Ordinance (UDO). The UDO, also known as FlexCode, combines sustainable development and living principles into the planned vision for the Town.
Click here for more information on the FlexCode and to access the workshop schedule and materials document.

Zoning Map
Master Plan
Floodplain managing is a vital part of planning for natural disasters. The Town of Leland Floodplain Manager is committed to providing all residents with the most up to date information regarding Floodplains and continuously strives to develop and implement new ways of protecting the life and property of the citizens. We encourage you to contact the Floodplain Manger if you have any questions regarding the Floodplain and your property.
Current and Upcoming News:
As you may or may not know by now your Flood Insurance is going up. On July 1, 2012 the Biggert-Waters Flood Insurance Reform Act took effect. This act makes numerous changes in the National Flood Insurance Program (NFIP) that will increase the cost of insurance to offset the high losses incurred by the program. Many of the increases will be relatively moderate or affect specific high risk groups such as repetitive loss properties; however, the Act also removes two long standing "grandfather" clauses that are likely to be very expensive for property owners in or even near the respective 100 year floodplain shown on the flood maps. CLICK HERE! to read all of the changes.

FEMA HQ has approved a video prepared by their contractors (H2O) that provides an excellent overview of the NFIP and the BW-12 changes that have been implemented. It is approximately 19 minutes. CLICK HERE! to view the video.

If you have any questions, please feel free to contact Andrew Neylon 910.332.4815.