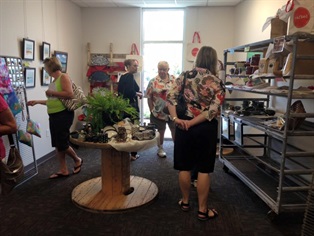 Special Events



LOVE, LOSS, and WHAT I WORE
August 18 and 19 | 7pm
Ausgust 20 | 3pm
$20
Brunswick Little Theatre presents: "A play by women-with women-for women-that men will appreciate" by Nora Ephron and Delia Ephron "Funny!" "Compelling!" "Sweet!" "Powerful!" monologues and ensemble peices about women and memories covering all the important subjects: mothers, prom dresses, mothers, buying bras, mothers, hating purses, and why we wear black. Based on the bestselling book by Irene Beckerman.

LCAC Open House
August 26 | 10 am - 2 pm
Free Event
Bring the entire family to our third annual Open House! This event features arts and activities for children of all ages.

2017 Concert Series


7 pm - 9 pm | Doors open at 6:30 pm




Purchase Tickets at the LCAC or

ONLINE

August 25
Sonic Spectrum Band
www.sonicspectrumband.com

September 15
L Shape Lot
www.lshapelot.com

October 20
Gatsby Gang Jazz Band
www.gatsbygangjazz.com

December 15
Artistry in Jazz
www.artistryinjazz.net