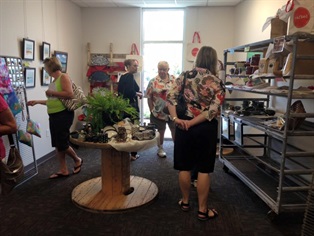 Special Events
Creative Writing Fair


June 10 | 10 am - 4 pm
Free Event
This event brings local authors together to share their motivations and experiences as writers. Guest authors speak about their work and form discusion groups. Contact

/lcac-special-events

to become a guest speaker.

NEIL DIAMOND: A Musical Biography


June 16 | 7 pm - 9 pm




$5


Phil Bruschi brings his presentation skills and vocal talent to the LCAC, delivering a musical biography of Neil Diamond. This program focuses on his legendary career as a singer and songwriter, highlighting more than 45 years of struggles and successes. Phil will discuss Diamond's early career to present day while performing such songs as "Sweet Caroline," "Hello Again," "Cracklin' Rose" and many more.

LOVE, LOSS, and WHAT I WORE
August 18 and 19 | 7pm
Ausgust 20 | 3pm
$22
Brunswick Little Theatre presents: "A play by women-with women-for women-that men will appreciate" by Nora Ephron and Delia Ephron "Funny!" "Compelling!" "Sweet!" "Powerful!" monologues and ensemble peices about women and memories covering all the important subjects: mothers, prom dresses, mothers, buying bras, mothers, hating purses, and why we wear black. Based on the bestselling book by Irene Beckerman.

LCAC Open House
August 26 | 10 am - 2 pm
Free Event
Bring the entire family to our third annual Open House! This event features arts and activities for children of all ages.

2017 Concert Series


7 pm - 9 pm | Doors open at 6:30 pm




Purchase Tickets at the LCAC or

ONLINE

March 17
Massive Grass
www.massivegrass.com


April 21
Marcel Portilla Band
www.reverbnation.com/germar

May 19
Marshall Derrick with Chillin Dixie
https://www.reverbnation.com/chillindixie

June 23
Johnny White and the Elite Band
www.johnnywhite.org

July 15
Sidecar Social Club
www.sidecarsocialclub.com

August 25
Sonic Spectrum Band
www.sonicspectrumband.com

September 15
L Shape Lot
www.lshapelot.com

October 20
Gatsby Gang Jazz Band
www.gatsbygangjazz.com

December 15
Artistry in Jazz
www.artistryinjazz.net