Town of Leland Newsletter July 2012
7/2/2012 1:28:49 PM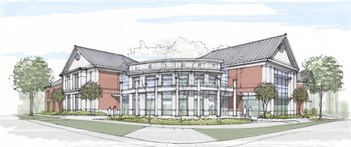 New Town Hall – Groundbreaking Ceremony
The Town of Leland held its groundbreaking ceremony for the New Town Hall on
Friday, June 29, 2012 at 10:00 a.m. The ceremony guests included  the Leland
Town Council, the Architect Charles Boney of LS3P, the General Contractor
Bob Morgan of Paragon, Shane Lippard, Right Angle, John Wessell, III, Attorney
for Town of Leland and Jennifer Adams of Sun Trust Bank.

From left to right Jennifer Adams, Shane Lippard, Brenda Bozeman,
Jane Crowder, Jon Tait, Pat Batleman, Martha Currie,
Charles Boney, Bob Morgan, and John Wessell, III.

The new Leland Town Hall total project cost is 9.9 million.   On June 5, 2012 
the N.C. Local Government Commission approved the  Town of Leland to 
proceed with project financing.   The facility will be built at Town Hall Drive and 
Old Fayetteville Road.
Town Hall Specifications:
   •  44,000-square-foot, two-story building on three and a half acres.
   •  3,000-square-foot council chamber with seating for 175 people.
   •  The building is divided; half for the town administration, half for police.
The project completion date is anticipated to be October 2013.
Bus Transportation
The Town of Leland contracts WAVE Transit to provide bus transportation
services for its residents.  The bus route makes several stops in Leland
and a stop in downtown Wilmington. 

Meet the Finance Department
We would like to introduce to the citizens the Town's Finance Officer,
Donna Strickland, Deputy Finance Officer, Robyn Watts and the
Finance Administrative Assistant, Vera Lacewell.   The finance department
oversees all the town finances and investment of idle funds, utility billing and
receiving, and customer service (along with Lynn Roberts from Building
Inspections/Planning).   The Town has begun a move toward outsourcing
functions to reduce cost, but want to make sure we never lose the personal
touch.   If you have any questions or concerns, please do not hesitate
to contact us Finance Directory .


New Fiscal Year Begins July 1st!
The finance department has been very busy the past several months with
end of year processes and completing the FY2012-13 Budget.  Below
are the questions that arise at the beginning of each budget year;
along with the answers.
Q.     How much did my taxes increase?
a.     Town of Leland Town Council did not increase the tax rate
      for the 2012 tax billing. 


Q.   What is the total budget for the Town of Leland? 
a.    General Fund is 6.9 M and Utility Fund is 3.1 M.


Q.   Can I get a copy of the Town budget and Town Audit? 
a.    Yes, they are both on the Town Webpage.  
     
           Town FY2012-13 Budget      Town Audit


Q.   If I have questions concerning the budget who can I call? 
a.    You can contact Donna Strickland, Finance Officer or
     David Hollis, Town Manager/Budget Officer.


Q.   What are the top three revenues for the Town? 
a.    1.  Sales and Use Tax 2.  Franchise Tax 3.  Property Tax
Public Utilities
        The mission of the Department of Public
        Utilities is to provide outstanding public
        services for its citizens, visitors and
        neighboring subdivisions while maintaining
        a superior infrastructure, guaranteeing a
        clean and safe environment as well as  
        sustaining a high quality of life.
        Click Here! to review the 2012
        Wastewater Collection System Annual Report.



Community Interest
NBHS Concession Stand  has been put in place next to the 
softball fields behind the school.
 
Habitat for Humanity home in Pickett Ridge is the second
home built in Leland for its residents.
 
2012 New Businesses


CVS - 1132 East Cutlar Crossing, Brunswick Forest


Falcone's  LaFontana - 2013 Olde Regent Way, Waterford


Honeybee's Frozen Yogurt - 2013 Olde Regent Way, Waterford


Just Drop in Childcare- 1107 New Pointe Blvd, Walmart Plaza


Liberty Tax - 103-C Village Rd, Clairmont Shopping Center


Lowes Foods - 1152 East Cutlar Crossing, Brunswick Forest

Lucky Spin Laundromat - 1725 Reed Rd, Mt. Misery Food Lion Center


Orbie & Co - 511 Olde Waterford Way, Waterford

The Vapor Shack - 324-B Village Road, Leland Business Center


Leland Parks and Recreation
Leland Parks and Recreation is in full swing this summer!  The addition and
expansion of new programs, special events and park facilities have made
this one of our best years yet.  In addition to our regular programs consisting
of Leland's Little Learners, Line Dancing, Expressive Art Group, Hometown
Opry and Hooks and Needles, we have added fitness programs such as
Boot Camp, Fit Over 50 and an Arthritis Exercise Group. We have even
given citizens the opportunity to learn how to save big with a couponing 
class!  We are staying busy with special events this summer.  The Movies
in the Park kicked off in April with a Family Fun Day and will come to a
conclusion on July 7 with a showing of The Adventures of TinTin.   We have
seen wonderful attendance this year and want to thank all of you who have
supported the series.  The Imitations kicked off the Summer Concerts in
the Park on June 28. The concerts will continue every other Thursday until
August 9.  The talented bands performing this summer are sure to have
you out of your seat and dancing around the park.



We are also busy with several park construction and planning projects.
Westgate Nature Park Phase I is currently under construction and should
be open in early  fall. Sturgeon Creek Environmental Education Park
Phase I is currently in the design phase with construction to begin within
the year. The Cultural Arts  Committee has been very busy planning and
providing input into the design of the Cultural Arts Center with the help of
John Sawyer Architects. We hope to have  the building open in 2013!


As you can see, this is and will continue to be an exciting time as we
look to expand recreation opportunities in Leland. 
Leland's Little Learners program that we have on
Tuesday Mornings at 9:00am.  
Movies in the Park!
Upcoming Events:
July 7, 8 pm: Movies in the Park – The Adventures of TinTin
July 12, 6:30 pm: Summer Concert Series – Coco Loco Band
July 26, 6:30 pm: Summer Concert Series – Main Event Band
August 9, 6:30 pm: Summer Concert Series – Sea Cruz
September 8, 4 pm: Founders' Day
The Gateway Beautification Plan
The Town of Leland's Planning Department is in the process of
submitting a request for qualifications from established planning
and development firms for the creation of the Gateway Beautification
Plan.  The plan's study area is intended to cover the Village Road
Corridor from the highway off ramp to the Sturgeon Creek Bridge. 
The resulting plan will make use of the standards adopted with the
town's FlexCode.  As with any land use plan, success hinges upon
public input.  As such which ever consultants are selected will go to
great lengths to gather public input for the plan.