Town of Leland Newsletter December 2012
12/5/2012 7:11:19 PM
Gateway District FlexCode Workshops  |  December 9-12
 
In 2011, Leland adopted its FlexCode zoning ordinance as a tool
to help achieve the  goals in our Master Plan.  Today, we're taking
a big step forward by applying that code  to our Gateway District.  
Join us December 9-12 for our Gateway District FlexCode 
Workshop, where we'll examine the specific properties within the
district, explain the facts and opportunities presented by the new
zoning, and even show how new development under the code
could look in the coming years. There's lots of opportunities to
participate, so please join us for some or all.
For more information about the Town's Master Plan visit,
www.LelandVision.com.
Click Here
to obtain a flyer on the 5 different workshops.


Welcome New Business Owners!
If you have not heard there are several new businesses in town.
If you get the opportunity, please stop by and welcome
them to the area.


Duke's Old South BBQ
Fuzzy Peach 
Ganey, Byrd & Dunn Insurance Group
GNC Store
Pizzetta's Pizza 
Murray Art & Framing 
Village Tire


The Shoe Center

318 Village Rd.
1109 New Point Blvd.
1107 New Point Blvd.
1114 New Point Blvd.
1144 East Cutlar Crossing
1144 East Cutlar Crossing
968 Village Rd.


1144 East Cutlar Crossing
Permits for home improvement projects.  Are they required?
The Inspection Department has compiled the General Statues 

rules that
 will answer 
your basic questions about 

permit requirements
for 
home improvements.

Missed the last Town Council Meeting?  
If you missed the Town Council meeting no worries, you can now
view the meeting by means of
VIDEO
.
Vegetative Debris Drop-off Site
Extended Operating Hours
Wednesday & Saturday 8 am - 12 noon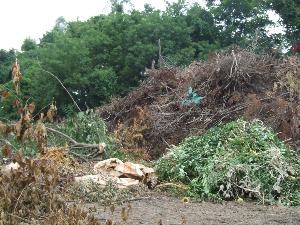 In an effort to better serve the citizens of Leland, beginning
December 5 the new operating hours for the vegetative debris
drop-off site will be Wednesdays and Saturdays 8:00 am to
12:00 pm except for Holidays. Dumping of debris outside of these
times will not be allowed. The site will now be staffed during
operating hours and you may be asked for proof of residency.
Acceptable forms for proof of residency include:
·         Valid Driver's License (with a Leland address)
·         Recent Utility Bill (with a Leland address)
·         Recent Tax Bill (with a Leland address)
This service is provided for Town of Leland Residents only and
Contractors/Landscapers may not dispose of debris at this site.
Only vegetative debris will be accepted and it must be cut to a
manageable size. Absolutely no construction debris, lumber,
commercial or household garbage will be accepted. Please empty
all bags and containers and take them with you.
The Vegetative Debris Drop-off Site is located at 187 Old Lanvale Rd.



Restaurant Oil & Grease Rendering

The Public Utilities Department assists the restaurants residing
in the town to meet the requirements with grease rendering.  
The Public Utilities Department appreciates the assistance and
cooperation it receives from the restaurants.
Here are the
FACTS
about restaurant oil and grease rendering.

The Holiday Season is quickly approaching again this year which
means a New Year is right around the corner!  Leland Parks  and
Recreation  is excited and ready for a new year full of events and
programs, new  and old.  The year 2013 will be one you won't
want to miss! 
A few programs to be on the lookout for in January are a new
eight-week fitness program, Common Threads, Healthy Living
Leland, CPR Certification, the return of the Arthritis Exercise
Group and of course our regular programs that have continued
through the Holidays.  Also coming in the start of the new year
will be a few special events.  Look for the Whistle Pig 5k Race
and Youth Art Day in February. 
For more information on our special events or ongoing programs
such as Leland's Little Learners, Line Dancing, Expressive Art
Group, Couponing Class, Fitness Groups and Hometown Opry
(The Sam Miller Jam), check out our website   or contact the Parks
and Recreation Department at (910) 332-4823  or
/newsletter/id/58992 .



New Town of Leland Postmaster
New Town of Leland Postmaster Phoebe Jordan takes the
oath of office with family members looking on at the
Leland Volunteer Fire and Rescue Fire Department
on November 30, 2012.  Congratulations! 



Please join us in welcoming our newest employees!



Chief of Police - Mike James
We are please to have Mike James as the Chief of 
Police.  Mr. James excepted the offer on Thursday,
November 15.  Please join us in welcoming him.


Chief James began his law enforcement career as a
communications officer for the Mayodan Police Department
in 1983. Chief James later joined the Madison Police
Department where he served as a patrol officer, D.A.R.E. officer,
field training officer and administrative training. Chief James
served as Chief of Police for the Stoneville Police Department and
Director for the Rockingham County Forensic/Gang Prevention
Bureau. Chief James also served as an Adjunct Professor for
Rockingham Community College and Surry Community college
teaching in the Criminal Justice Program. Chief James came to
Leland Police Department from the Brunswick County Sheriff's
Office where he served as an Administrative Trainer. Chief James
holds a Master's Degree in Criminal Justice from South University
and an Advanced Law Enforcement Certificate from NC Criminal
Justice Training and Standards and the NC Sheriff's Training and
Standards. Chief James is a certified law enforcement instructor
for the State of North Carolina specializing in Rapid Deployment.
Chief James and his wife have three children and three grandchildren.         
David Gore
David Gore II, ITS Technician, joined the Town of Leland on 

September 24, 2012.  He holds an Associate's degree in Computer 

Engineering Technology as well as certifications in Networking, 

Network Security, and Web Development.  His job responsibilities 
include installing hardware and software systems, troubleshooting 

a variety of computer issues, setting up computer security
measures, 
configuring networks, and offering great technical
support.  
David grew up in Whiteville, NC and after meeting his wife and
getting  married a few years ago, moved to Leland.  They have
been living in  Leland now for about four years.  He has a passion
for video games and the video games industry which is what
initially got him interested in the computer field.  A long-term
goal of his is to actually develop video games.  David describes
himself as a "really outgoing guy who likes to get to know people".  
He strives to always do all he can to help and satisfy those
around him.
Chris Lennon
Chris Lennon joined the Town of Leland on August 27, 2012 as
Supervisor in the Public Works Department.  He holds a Bachelor's
degree in Computer Science, Mathematics, and Statistics as well
as a minor in Psychology.  Chris is also a licensed NC educator
and certified electrician.  He has extensive background in
construction and project management.  His job responsibilities
include managing the Public Works crew and assisting when
needed, project management, and monitoring the maintenance
for the Town facilities.
Chris was born in Dallas, Texas, was raised in Buffalo, New York,
and moved to Cary, NC in 1978 to escape the cold and snowy
winters of Buffalo.  He just recently moved to Leland with his
wife after accepting the job with the Town of Leland.  His
interests involve fixing electronic equipment including PC's,
automotive repair, and electrical repairs.  Chris also enjoys
talking with people and learning from their experiences.
Brian Hall
Brian Hall recently joined the Leland Police Department on
November 19, 2012 as a Patrol Officer.  He moved to Leland
last month from Rockingham County where he worked for the
Rockingham County Sheriff's Office.  
Brian is a graduate of Basic Law Enforcement and holds an
Associate's degree in Criminal Justice.  He is also a member of
Alpha Kappa Pi Honor Society.  His interests include hiking, fishing,
traveling, and building wood furniture
As a Patrol Officer, Brian handles a variety of duties which
include patrolling the Town limits, responding to calls for service,
and safeguarding the lives and property of citizens and visitors.