Leland Parks and Rec. April 2013 Newsletter
4/5/2013 4:19:50 PM
Leland Parks and Recreation April Update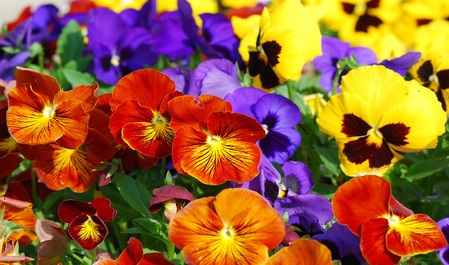 April showers bring May flowers… and hopefully a nice warm spring. Come out and enjoy our programs – most of which are rain or shine. If you are interested in participating in any event or program or simply would like more information, please contact Amy Ryan, Recreation Specialist at aryan@townofleland.com or 910-332-4823. Feel free to forward this message on to your friends and neighbors!
Announcements:
We Couldn't do it Without You
Leland Parks and Recreation would like to thank the many volunteers who came out for this year's Egg Hunt. Special thanks go out to Crosswinds Church for providing prizes, The River of Leland for providing food, North Brunswick Lions Club for hiding the eggs and Piggly Wiggly for providing snacks and juice. We would also like to thank Capeside Animal Hospital and Forever Friends Animal Rescue for the free rabies clinic at last month's Bark in the Park, Mr. John Crowder for serving as our tour guide for Leland We Don't Know, and Wilmington Water Tours for bringing Sea Leland to you at a reduced cost. We are only able to provide such great community events through the generosity and efforts of our partners! If you have a group that is interested in volunteering, please give us a call to discuss opportunities.
Walk on the Wild Side
Our Wild Bird Walks continue this month on Thursday, April 11 at 8 a.m. at the new Westgate Park with the experts from Wild Bird and Garden. Go on this casual walk and then impress your friends with your avian knowledge. See details below.
Bonsai!!!
This month the Leland Garden Club will host a Bonsai Class conducted by Ed Meyer of Bella Bonsai on April 23 at 6:30 p.m. at the Leland Classroom Annex (102 Town Hall Dr.). Students will learn the art of Bonsai through pruning, shaping and wiring. The cost for the class is $50 and includes a tree and a pot. You do not have to be a member of the Garden Club to attend. For more information or to register call Amy Ryan at 910-332-4813 by April 18.
Feed me Seymour!
Our annual Plant Giveaway will be held April 13. Come out and get your free plants to help beautify your yard and grow some fresh veggies for the summer. See below for details.
Good, Old-Fashioned Family Fun
This year's Movies in the Park series kicks off with a fun day of activities for you and your family at our Family Fun Day event on April 20. See below for more information.
Abracadabra!!!
Like us on Facebook 
Upcoming Programs and Events:
Plant Giveaway 
* What: Join us for our annual Plant Giveaway to get your free plants to help beautify the town and protect the environment. We will have hundreds of plants of many different species to give away. They will be distributed on a first come first serve basis. 
* Where: Leland Recreation Building (102 Town Hall Dr.) 
* When: April 13, 10 a.m. to 1 p.m. (or until all plants are gone)
* Fee: FREE! This event is brought to you with support from Leland Stormwater Services.
Family Fun Day
* What:  Back for its second year, Family Fun Day will kick off the Movies in the Park series with a day full of fun and games for families and friends. You can expect bouncy rides, face painting, hot dogs and more. Come join us for a little fun before settling down to watch a movie under the starts.
* Where: Leland Municipal Park (102 Town Hall Dr.)
* When: April 20, 4 p.m.-Dusk (Wreck it Ralph starts at sundown)
* Fee: FREE!
Movies in the Park
* What: This year's family movie series promises to be better than ever. Come watch a film under the stars in the Leland Municipal Park, just like in the good old days of drive in movies. Bring your blanket and lawn chairs. No pets please.
* Where: Leland Municipal Complex Park (102 Town Hall Dr.)
* When: Every other Saturday beginning April 20. Movies start at sunset.
April 20: Wreck it Ralph
May 4: Rise of the Guardians
May 18: Brave
June 1: The Lorax
June 15: Soul Surfer
June 29: Madagascar 3 
* Fee: FREE! Concessions will be available for purchase.
Wild Bird Walks
*
What:
Join the experts from
Wild Bird and Garden
on a guided bird watching walk in one of the area's best natural environments. This is a great opportunity to get out in nature and learn about the different species of birds in our area. All you need to bring is a water bottle, binoculars and bug spray!
* Where: The new Westgate Nature Park (1260 Westgate Drive). Meet in the parking lot just off the roundabout.
* When: Thursday, April 11; 8 a.m. to 9:30 a.m.
* Fee: FREE! For more information or to register, contact Amy Ryan with Leland Parks and Recreation at (910) 332-4823 or aryan@townofleland.com.
Healthy Living Leland
* What: Our own health can easily escape our attention during the busy times in our lives. Being healthy, active and taking care of ourselves can help us enjoy a higher quality of life. Join us each month as we learn how to make nutritious and delicious meals and get active. Each month will have a different health-related topic and tons of great information, food and prizes. 
* Where: Leland Classroom Annex (102 Town Hall Dr.)
* When:  The second Tuesday of each month 6:30 p.m. to 7:30 p.m. (April 9 – Spring into Shape)
* Fee: FREE! To register call 910-332-4823 or e-mail aryan@townofleland.com.  Space is limited; call now to reserve your spot.
CPR Certification Class
* What: Leland Parks and Recreation is partnering with Leland Fire and Rescue to provide the public with CPR Certification Classes.  This class will cover CPR training along with first aid.  
* Where: Leland Fire and Rescue, 1004 Village Rd.
* When:  April 10, from 6 p.m. to 10:30 p.m.
* Fee: $20. This includes the course book and certification card.  To register call 910-332-4823.  Class space is limited; call now to reserve your spot.
Ongoing Programs:
You have received this message because you have indicated at some time that you are interested in Leland Parks and Recreation activities, programs and events. If you do not wish to receive future e-mails from Leland Parks and Recreation, please e-mail nbrooks@townofleland.com to have your address removed from the list. Thank you for your interest in making Leland a better place to live and play!