Leland Parks and Rec. October 2013 Update
10/3/2013 8:32:39 PM
Leland Parks and Recreation October 2013 Update
The leaves are changing, pumpkins are being carved and Trunk or Treat is in a few weeks! That can only mean October is finally here! If you're looking for something to do this month, Parks and Recreation has plenty of programs for you to enjoy. Make sure to check them out. If you are interested in participating in any event or program or simply would like more information, please contact Amy Ryan, Recreation Specialist at aryan@townofleland.com or 910-332-4823. Feel free to forward this message on to your friends and neighbors!
Announcements: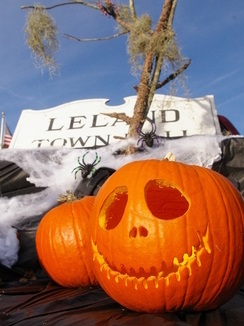 Witches, Ghosts and Goblins! Oh my!
Trunk or Treat is right around the corner! It will be held October 26 at Brunswick River Park (Across from Belville Elementary). See below for more details.
A Big Thank You!
We would like to thank everyone who volunteered for and participated in Founders' Day 2013! This was Leland's best birthday yet! We would also like to thank everyone who came to support Brunswick Waterfest. What a day of fun on the water! Congrats to the winners of the Kayak Fishing Tournament, SUP Race, and the Birding Big Day! Look for these events to return next fall.
Walk on the Wild Side
Our Wild Bird Walks continue this month on Thursday, October 10 at 8 a.m. at the new Westgate Nature Park with the experts from Wild Bird and Garden. Go on this casual walk and then impress your friends with your knowledge of our fine feathered friends. See details below.
A Chance to Get in Shape before the Holidays
A new 8-week fitness program will begin the first week of November. Be sure to call early and reserve your spot since space is limited and the class will fill up fast. See below for information.
Little Learners has Returned
Leland's Little Learners, our preschool reading program, returned for a new year this week. We still have some spots available! See below for more details.
Flytrap Potters to Hold Workshop
The Venus Flytrap Potters will hold a Beginner's Handbuilding Workshop on Saturday, October 26 from 9:30 a.m. until 3 p.m. If you have ever wanted to learn how to work with clay, make a bowl or sculpt a figure, this class is for you. Clay and tools will be provided. Must be 16 year or older. Cost is $50 per student or $40 for Venus Flytrap members. For more information, call 910-278-7560. Pre-registration is required.
Like us on Facebook
Please visit our Facebook page and like Leland Parks and Recreation.
Click here to be our friend.
Upcoming Programs and Events:
Trunk or Treat
* What: The Town's fifth annual Trunk or Treat gives parents a fun, safe alternative to traditional Trick or Treating. Many local businesses and organizations will be on hand passing out goodies to children. The Leland Police and Fire departments will be on hand to add to the safety of the event. No pets.
* Where: Brunswick River Park (1080 River Rd.)
* When: Saturday, October 26, 2013; 3 p.m. to 5 p.m.
* Fee: FREE!
Wild Bird Walks
* What: Join the experts from Wild Bird and Garden on a guided bird watching walk in one of the area's best natural environments. This is a great opportunity to get out in nature and learn about the different species of birds in our area. All you need to bring is a water bottle, binoculars and bug spray!
* Where: Westgate Nature Park (1260 Westgate Dr.)
* When: Thursday, October 10; 8 a.m. to 9:30 a.m.
* Fee: FREE! For more information or to register, contact Amy Ryan with Leland Parks and Recreation at (910) 332-4823 or aryan@townofleland.com.
Body Sculpting
* What: Rev up your metabolism with a challenging full-body workout combining cardio bursts, athletic drills and strength training exercises using hand weights. All fitness levels are welcome no matter if you already have a core strength in place and are ready to take your fitness to the next level, or if you are a beginner who needs modifications. Please bring water, an exercise mat and a towel.
* Where: Leland Municipal Park and Recreation Building (102 Town Hall Dr.)
* When: Monday and Wednesday Nights (New 8 weeks starts Monday, November 4)
* Fee: $95 for 8 weeks. That's under $6 a class!!! Call (910) 332-4823 for more information or to register.
Leland's Little Learners
* What: This free program for children ages 3-5 seeks to stimulate the minds of Leland's children through story time, arts and crafts and time outside on the playground! During the program, parents or guardians must remain with their children. Space is limited, so sign up early.
* Where: Leland Classroom Annex (102 Town Hall Dr.)
* When: Tuesday Mornings at 9 a.m.
* Fee: FREE!
CPR Certification Class
* What: Leland Parks and Recreation is partnering with Leland Fire and Rescue to provide the public with CPR Certification Classes. This class will cover CPR training along with first aid.
* Where: Leland Fire and Rescue, 1004 Village Rd.
* When: December 11 from 6 p.m. to 10:30 p.m.
* Fee: $31.51. This includes the course book (must be pre-ordered) and certification card. To register call 910-332-4823. Class space is limited; call now to reserve your spot.
Ongoing Programs:
Our ongoing recreation programs include: Leland's Little Learners, Body Sculpting, Scrapbooking, Line Dancing, Common Threads and Expressive Art.
For more information on these programs, please click here.
Other Community Events:
(October 14-26) Brunswick Arts Council 13th Annual Fall Exhibition and Sale
The annual art show will be held at Franklin Street Gallery, 130 E West St. in Southport. Gallery hours are 10 am- 5 pm. Don't miss this chance to view and buy works from local artists.
You have received this message because you have indicated at some time that you are interested in Leland Parks and Recreation activities, programs and events. If you do not wish to receive future e-mails from Leland Parks and Recreation, please e-mail nbrooks@townofleland.com to have your address removed from the list. Thank you for your interest in making Leland a better place to live and play!