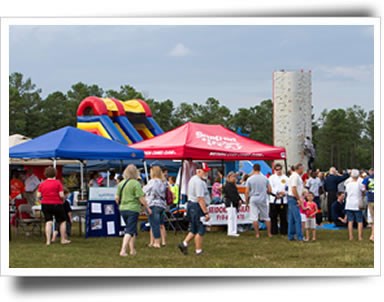 Upcoming Special Events
The Town of Leland seeks to provide a variety of special events for the entertainment and enjoyment of its citizens. In addition to the traditionally popular Founders' Day, the Town has more events than ever planned for 2015. Check back often as new events are added regularly.
Founders' Day
What
The Town of Leland will celebrate its 26th anniversary with fireworks, carnival rides, food, vendors, entertainment from The Hatch Brothers and Norlina, and a very patriotic kick off to the event featuring the All Veteran Parachute Team. This year's event will also feature a food drive to benefit local food banks. Please bring can/box foods to help our community.

If you are an arts and craft vendor please see below for vendor applications. Applications are due September 2.
Arts & Crafts Vendor Application
Arts & Crafts Rules and Procedures
Where
Brunswick Forest Commercial Area (1090 Brunswick Village Blvd.)
When
Saturday, September 12; 3 p.m. to 9 p.m.
Fee
Free!