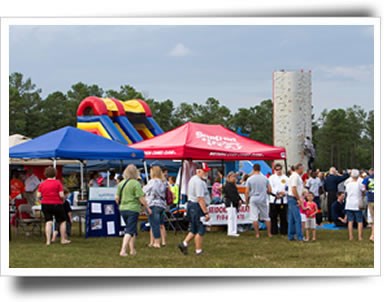 Upcoming Special Events
The Town of Leland seeks to provide a variety of special events for the entertainment and enjoyment of its citizens. In addition to the traditionally popular Founders' Day, the Town has more events than ever planned for 2014. Check back often as new events are added regularly.
Trunk or Treat
What


The Town of Leland will hold its sixth annual Trunk or Treat event on Saturday, Oct. 25, from 4 p.m. to 6 p.m. at the Leland Municipal Park (102 Town Hall Dr). This free event gives parents a fun, safe alternative to traditional Trick or Treating. The Leland Police and Fire departments will be on hand to add to the safety of the event. The rain date will be the following day at the same time.

Trunk or Treat is one of the Town's largest events, drawing several thousand children and parents. We are asking area businesses and community organizations to participate in this event by decorating a vehicle and passing out goodies. We ask that you arrive between 1 p.m. and 3 p.m. to decorate your vehicle. "Trunk or Treating" will begin at 4 p.m. In exchange for your participation, the Town will allow you to erect a single banner or sign at your vehicle advertising your business or service. We would just ask that you remember this is a children's event and all displays and promotional items should be kid-friendly. Also, please be prepared for 1,500-2,000 participants.

Trunk or Treat Participant Form (You must register if you wish to have a Trunk)
Where
Leland Municipal Park (102 Town Hall Dr.)
When
4 pm to 6 pm
Fee
FREE! Contact Amy Ryan at 910-332-4823 or aryan@townofleland.com for more information.