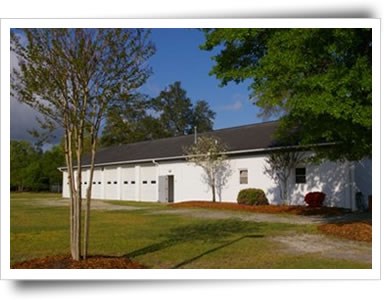 Leland Recreation Building
The Town of Leland has a 2,100-square-foot heated facility that is available for rent to Leland citizens free of charge.
The Recreation Building features a covered, lighted 70' x 30' area with cement floor. Inside the building and included with a reservation are tables and chairs, trash cans and two handicapped-accessible public restrooms. There are no kitchen facilities available, but there are electrical outlets and exterior water faucets on premises. Adjacent to the building is Leland Municipal Park, an eight-acre park with a playground and gazebo. The site is located next to the main Town Hall parking lot, 102 Town Hall Drive.
Be sure to check the Town Calendar to see if your preferred date is taken prior to applying. All renters must present a valid Leland address prior to rental confirmation.
Leland Classroom Annex
The Town also has a 1,600 square-foot air conditioned Classroom Annex that is available for rent to the general public. The facility features two rooms. Room A is approximately 675 square feet and is suitable for classroom activities. Room B is approximately 620 square feet and is suitable for smaller groups. Tables, chairs, trash cans and handicapped-accessible restrooms are available. Maximum occupancy for the building is 50 people. The facility is located to the west of Town Hall on the municipal campus. Limited parking is available in a gravel lot adjacent to the building. Handicapped parking is available via Perry Avenue.