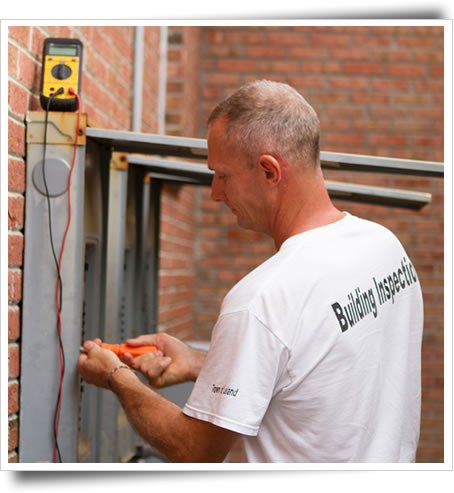 Building Inspections
The Town of Leland Inspections Department is responsible for the enforcement of the North Carolina State Building Codes to protect lives, health and property in the Town of Leland. Inspectors are available 8:00 a.m. - 9:00 a.m. and after 3:00 p.m. to answer specific questions. Appointments are recommended. Our staff consists of four multi trade inspectors and an administrative assistant to assist with the permitting process, regulations and codes in relation to your specific project.
The Inspections Department will also serve the community in times of disaster by assisting in the observation and assessment of damaged structures.
Contact
Hours: Monday-Friday, 8:00am - 5:00pm
Phone: (910) 371-3754
Fax: (910) 371-1158 (For Inspection Requests)

2014 Building Inspections Fee Schedule
---
NOTICE:
Regulation of Liquefied Petroleum Gas System required:
Code of Ordinances
NFPA 58 Liquid Petroleum Gas Safety Code

ATTENTION Contractors & Sub-contractors
Effective April 1, 2013 LiensNC
Description
Fee
Residential Structures
$47.00
Non-Residential
DSZONIN
$289.00
DSZONIN
0,000 Square Feet
$356.00
DSZONIN
2,001-4,000 Square Feet
$413.00
DSZONIN
4,001-6,000 Square Feet
$470.00
DSZONIN
6,001-8,000 Square Feet
$536.00
DSZONIN
8,001-10,000 Square Feet
Additional $25 per 1,000 square feet over 10,000 square feet
DSZONIN
Accessory Structures Permit
$22.00
DSZONIN
Change of Use Permit
$105.00
DSZONIN
Customary Home Occupation Permit
$27.00
DSZONIN
Vehicle for Hire
$50.00
Subdivision
DSPUD
Minor Plat including Preliminary & Final Plat Review
$47+ $2/lot
DSPUD
Major Plat Review Preliminary
$289+ $2/lot
DSPUD
Major Plat Final
$40.00
DSPUD
Planned Unit Development Master Plan
$361.00
DSPUD
Major or Minor Plat Revision
$25.00
DSPUD
Planned Unit Development Site Specific
$289+ $2 per lot
DSPUD
PUD Master Plan Amendment (Planning Board)
$227.00
DSPUD
PUD Master Plan Amendment (Staff Review)
$25.00
DSPUD
Improvement Guarantee Agreement
$392.00
Rezoning & Annexation
Fee
DSREZON
Rezoning
$351.00
DSREZON
Conditional Rezoning
0-3 Acres
$351.00
4-6 Acres
$413.00
7-9 Acres
$475.00
Each Acre over 10
Additional $50.00
DSREZON
Planned Unit Development Rezoning (if a Master Plan is attached, the Subdivision Fee is Waived)
$475.00
DSREZON
Text Amendments (Zoning & Subdivision)
$279.00
DSREZON
Amendment to Approved Planned Unit Development
$185.00
DSREZON
Voluntary Annexation (Annexation, Initial Zoning & Recordation)
$400.00
Planning Board of Board of Adjustment
DSZONIN
Variance
$217.00
DSZONIN
Appeal
$100.00
Sign Compliance Permits
DSZONIN
On-Premise Sign Review
$45.00
DSZONIN
Temporary Signs (Banners)
$22.00
DSZONIN
Off-Premise Sign Review (Billboard)
$100.00
DSZONIN
Temporary Off-Premise Directional Real Estate Signs
Click here for a sign application form
$300.00
Additional Fees
Fee
DSROMF
Zoning Regulations
$.10/per page
DSROMF
Subdivision Regulations
$.10/per page
DSROMF
GIS Map (11x17)
$5.00
DSROMF
GIS Map (24x36)
$10.00
DSROMF
Zoning Certification Letters
$26.00
DSROMF
Plat Revisions
$26.00
DSROMF
Zoning Re-Inspections
$26.00
DSROMF
Copies
$.10/per page
DSROMF
Public Information Requests
$25.00 Per
DSROMF
Continuances After Advertising
$26.00
td
T-Pole - Temporary electrical power to site
Mfg. Home Piers
Footing (ground after it is cleared and dug and ready to have concrete or Block put in); at this time it also must be sprayed for termites.
Foundation
Under Slab
Slab & Slab Insulation
Garage Slab
Floor System
Sheathing and Nailing
Framing and Roughs - Electrical, Plumbing, Mechanical.
Insulation
Gas Tank and Pressure
Final Trades
Final Building - Completed Project
Drainage - MUST have been graded for positive water flow
C.O. - Certificate of Occupancy/ Certificate of Compliance (All work is completed and approved).
Obtain a building permit application form from the Building Inspections Department located in Town Hall or download from the links below.
The primary contractor MUST sign and put their N.C. license number on the application, including all subcontractors' names, license numbers, and addresses.
All State and Local Codes must be followed.
Fill out forms in FULL.
Signed by Primary Contractors with License Numbers.
Signed by Owner.
Dated.
Must supply survey and plot plan with applicable setbacks and sewer permit.
Two (2) Complete Sets of plans, (required for both residential and commercial construction) and one (1) complete set of .PDF plans submitted on disc (required for commercial construction).
Any inspection requests will be taken from 8:00 am and 4:00 pm for the next business day's schedule. Any inspections requested after 4:00 pm will be scheduled for two (2) business days later. We accept inspection requests via fax, call, email, or walk-in. Do not call for an Inspection until the work to be inspected is ready.
If you would like a phone call prior to your inspection, this must be requested when scheduling your inspection. Please make sure to use a valid contact number to ensure that the inspectors are able to reach you when they are on the way.
If a Code Violation is found a $50.00 fee will be assessed before the job/work will be inspected again.