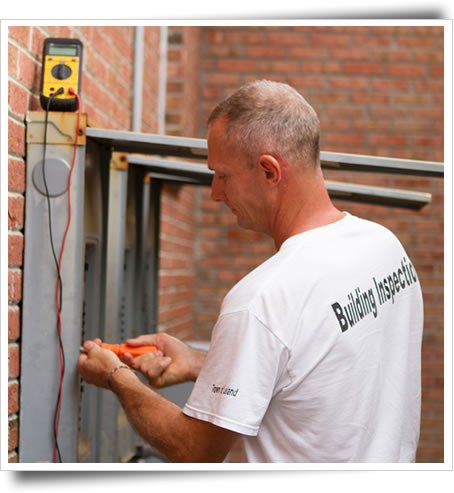 Building Inspections
The Town of Leland Inspections Department is responsible for the enforcement of the North Carolina State Building Codes to protect lives, health and property in the Town of Leland. Inspectors are available 8:00 a.m. - 9:00 a.m. and after 3:00 p.m. to answer specific questions. Appointments are recommended. Our staff consists of four multi-trade inspectors and administrative assistants to assist with the permitting process, regulations and codes in relation to your specific project.
The Inspections Department will also serve the community in times of disaster by assisting in the observation and assessment of damaged structures.
Contact
Hours: Monday-Friday, 8:00am - 5:00pm
Phone: (910) 371-3754
Fax: (910) 371-1158 (For Inspection Requests)

Building Inspections PERMIT FEE SCHEDULE

NC State Building Codes Amendments - Effective 1/1/2016
---
Attention: Contractors & Sub-contractors
​
See Link in text above.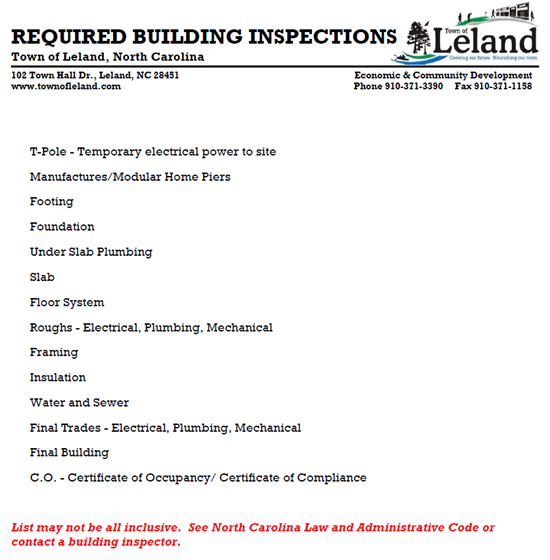 Obtain a building permit application form from the Economic and Community Development Building Inspections Department located in Town Hall or download from the Forms and Applications Link at left.
The primary contractor MUST sign and put their N.C. license number on the application, including all subcontractors' names, license numbers, and addresses.
All State and Local Codes must be followed.
Fill out forms COMPLETELY / IN FULL
Application must be signed by the Primary Contractors with License Numbers.
Application must be signed by the Owner, if different from the General Contractor.
Application must be dated.
Applicant must supply survey and plot plan with applicable seetbacks and sewer permit.
Two (2) complete, 8 ½" x 11" sets of plans

(required for residential construction)

must accompany application.



** Commercial construction

requires two (2) complete, full-sized sets of plans, and one (1) complete sest of .PDF plans submitted on disc must accompany application.