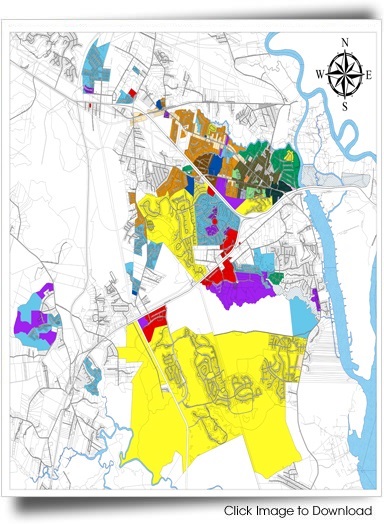 ---
Planning Department Mission Statement
It is the mission of the Town of Leland Planning Department to provide professional and technical guidance to elected officials, appointed board members, town management, town departments and citizens in all matters related to future and current land use. The department strives to preserve the health, safety and well being of Leland's citizens by promoting land use practices and techniques that will ensure the Town of Leland continues to be a quality place to live, work and play.

CODE OF ORDINANCES
---
UDO Flexcode
Planning staff is currently working on implementation of the Town's adopted Master Plan in the form of a Unified Development Ordinance (UDO). The UDO, also known as FlexCode, combines sustainable development and living principles into the planned vision for the Town.
Click here for more information on the FlexCode and to access the workshop schedule and materials document.

______________________________________________________________

* 2016 Planning Fee Schedule, CLICK HERE.
For any of the following specialty forms, please call the Leland Planning Division at
910-371-3390:

Annexation Application and Association Forms
BOA Appeal Application
BOA Variance Application
Commercial Zoning Application
Conditional Rezoning Application
Family Care Home and Group Home Application
Final Plat Application
Initial Zoning Application
Petition for Annexation
Preliminary Subdivision Plan Application
Protest Petitions
Public Information Request Form
PUD Site Specific Plan Application
Rezoning Application
Subdivision Final Plat Application
Text Amendment Application
Yard Sale Application (needed only if the sale is not on property you own)
Zoning Map
Master Plan
Floodplain managing is a vital part of planning for natural disasters. The Town of Leland Floodplain Manager is committed to providing all residents with the most up to date information regarding Floodplains and continuously strives to develop and implement new ways of protecting the life and property of the citizens. We encourage you to contact the Floodplain Manger if you have any questions regarding the Floodplain and your property.
Current and Upcoming News:

The North Carolina Flood Mapping Program (NCFMP) in concert with the Federal Emergency Management Agency's (FEMA) National Flood Insurance Program (NFIP), is in the process of updating the Flood Insurance Rate Maps (FIRMs) in Brunswick County. These FIRMs show studied areas that are at risk of flooding during large rainfall events (1% and 0.2% Annual Chance Floods). The last time the maps were updated was in 2006. The National Flood Insurance Reform Act of 1994 requires FEMA to assess the need to revise and update all floodplain areas and flood hazard zones at least once every five years.

You can access the preliminary maps or contact the floodplain manager for technical assistance to determine if you are or will be in a FEMA floodplain. Some properties may no longer be located in the floodplain, but some properties have been added. ​Leland is awaiting for FEMA to issue a Letter of Final Determination after it has reviewed appeals from its preliminary mapping. The final maps will then be adopted by the town and take affect at that time. Any permit applications or recording documentation at that time and going forward will need to reference the new FIRMs.


If you have any questions, please contact Andrew Neylon (910) 332-4817.