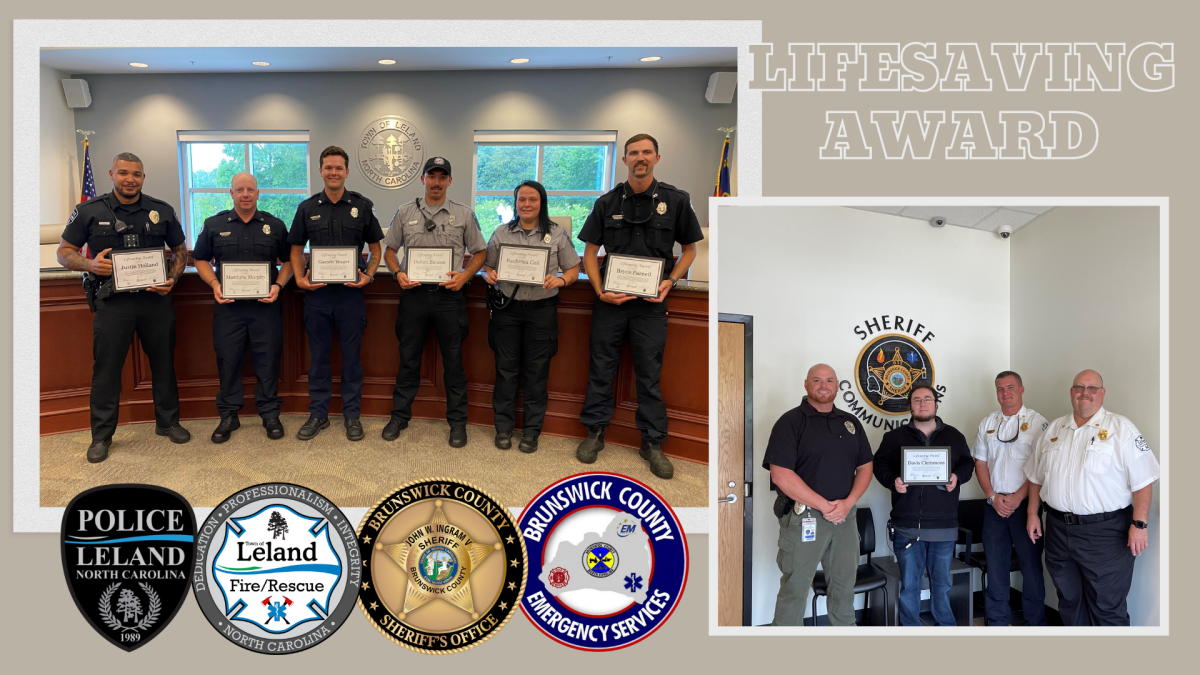 The Town of Leland is recognizing a group of first responders for their efforts on a recent call that led to an excellent outcome.
On June 15, Leland Fire/Rescue Engine 53 and Brunswick County EMS (BCEMS) were dispatched to a 22-year-old male in cardiac arrest. Engine 53 arrived in six and a half minutes and found two Leland Police Officers who had arrived just before and were already performing CPR on the patient. Leland Fire and Police worked together to continue CPR, apply oxygen, and shock the patient's heart with an AED. BCEMS arrived, continued care, and transported the patient to the hospital. Two Leland Fire/Rescue personnel went with the ambulance to assist paramedics while transporting the patient. As a result of everyone's efforts, the Town was informed that the patient has made a full recovery without any neurological deficiencies and is doing well.
The Town is grateful for all first responders and their dedication to protect and serve their communities. As such, Lifesaving Awards were given to each of the following first responders involved with this call: Leland Police Officer Justin Holland, Leland Police Officer Benjamin Majors, Leland Fire Captain Kyle Perry, Leland Fire Apparatus Engineer Matthew Murphy, Leland Firefighter Bradlee Littlefield, Leland Firefighter Bryce Parnell, Leland Firefighter Garrett Yeager, Brunswick County Sheriff's Office 911 Telecommunicator Davis Clemmons, Brunswick County Sheriff's Office 911 Telecommunicator Shelley Zacek, Brunswick County EMS Paramedic Rachelea Coll, and Brunswick County EMS Paramedic Dalton Benson.
Stay up-to-date with the latest Town of Leland news by following us on Facebook and Twitter.