Parks, Recreation, and Cultural Resources facilities are open to the public. All parks are open from sunrise to sunset. Smoking is not allowed on any Town property. 
See below for details about our facilities.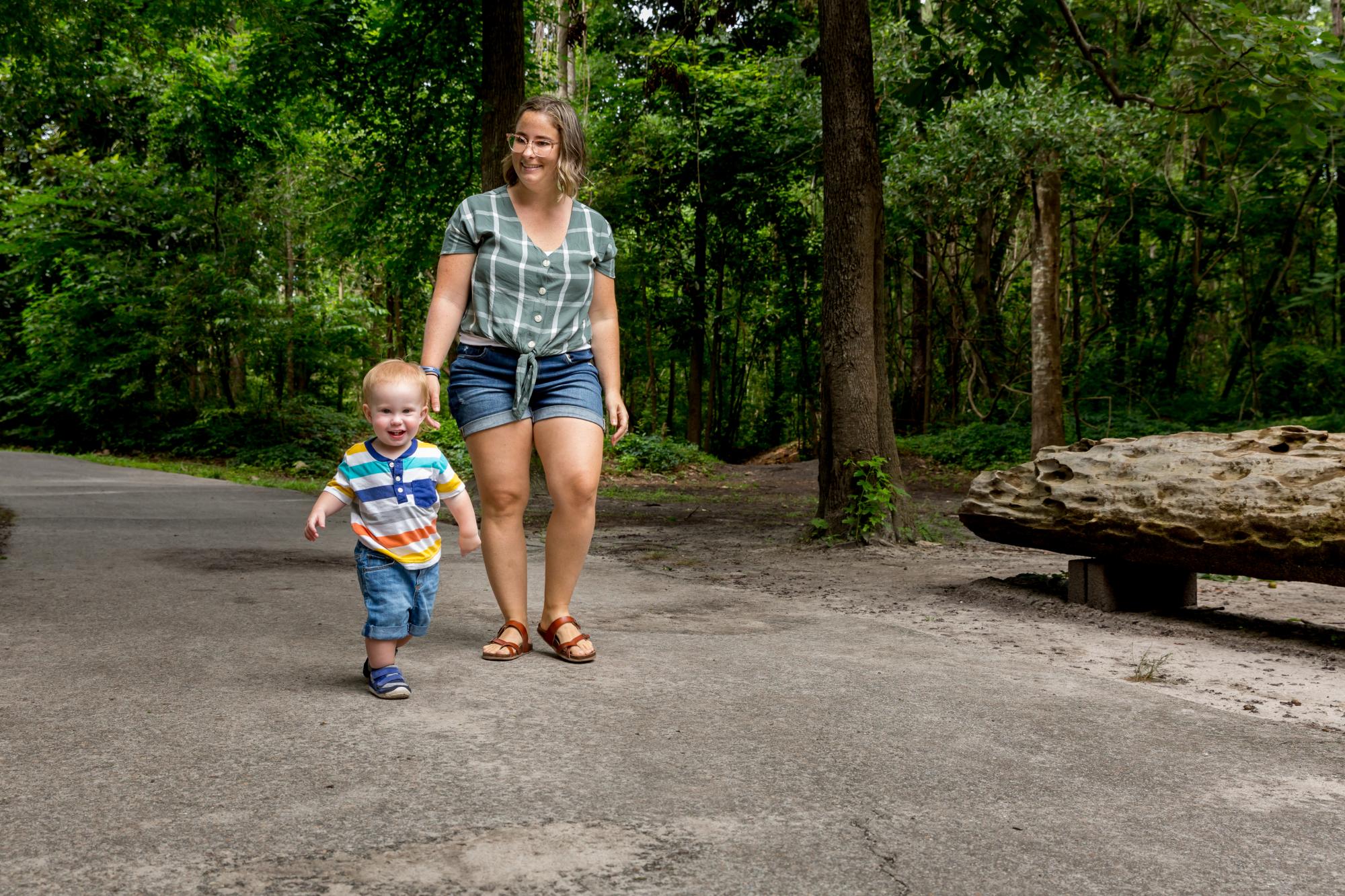 Founders Park opened on Founders Day 2004 and is the Town's first park. Located at 113 Town Hall Drive, the park is nearly eight acres and includes a playground, gazebo, stage, picnic tables, benches, open green spaces, and a 0.6-mile paved multi-use path. The park is open daily from sunrise to sunset.
Founders Park will be undergoing renovations to add a veterans memorial, splash pad, amphitheater, restrooms, and playground. Construction is scheduled to begin in sometime in 2023. View the project status.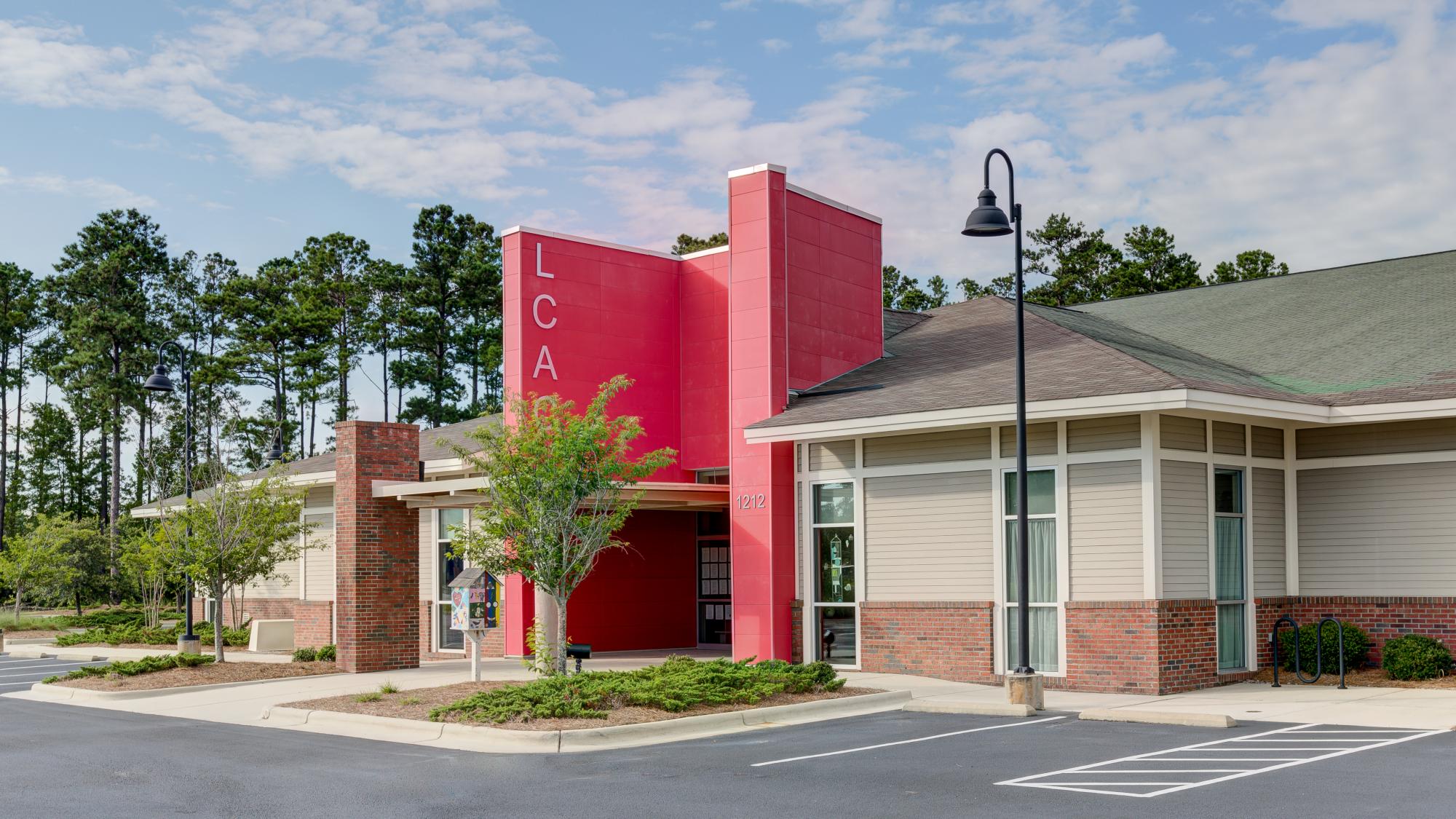 General Information
The Leland Cultural Arts Center provides a vibrant hub for the arts in Brunswick County and surrounding areas. It is unlike any other facility in the region, with courses and programs in a multitude of art forms including pottery, theater, painting, jewelry making, literary arts, healing arts, and more. The LCAC includes a gallery, pottery studio, multipurpose studio, painting and drawing studio, dance studio, classroom, and a performing arts space capable of hosting community theater productions, musical performances, and events.  

This community arts educational center is accessible to individuals of all ages, ethnic backgrounds, and economic statuses and welcomes all to share their talents and learn new skills. Participants have the opportunity to learn new skills or fine-tune their existing skills in a supportive, collaborative environment equipped with the tools they need to take their work to the next level. 
Leland Cultural Arts Center Rental Guidelines 
Rental Information 
The LCAC is an exciting and unique facility equipped to accommodate many occasions. Our facility is the perfect venue for weddings, receptions, private parties, and small performances, as well as corporate and nonprofit events or meetings. 

When you enter, you will find our Gallery space, which is ideal for a central gathering place for a larger event. For clients hosting multimedia presentations, the Multipurpose Room is equipped with projection capabilities as well as an in-house professional sound system. Additionally, there is a catering kitchen with equipment to meet most needs. The set-up and breakdown of chairs and tables is included in your rental (for indoor purposes only). For more information, please read the LCAC rental guides below.
Please note that reservations are accepted on a six month rolling basis.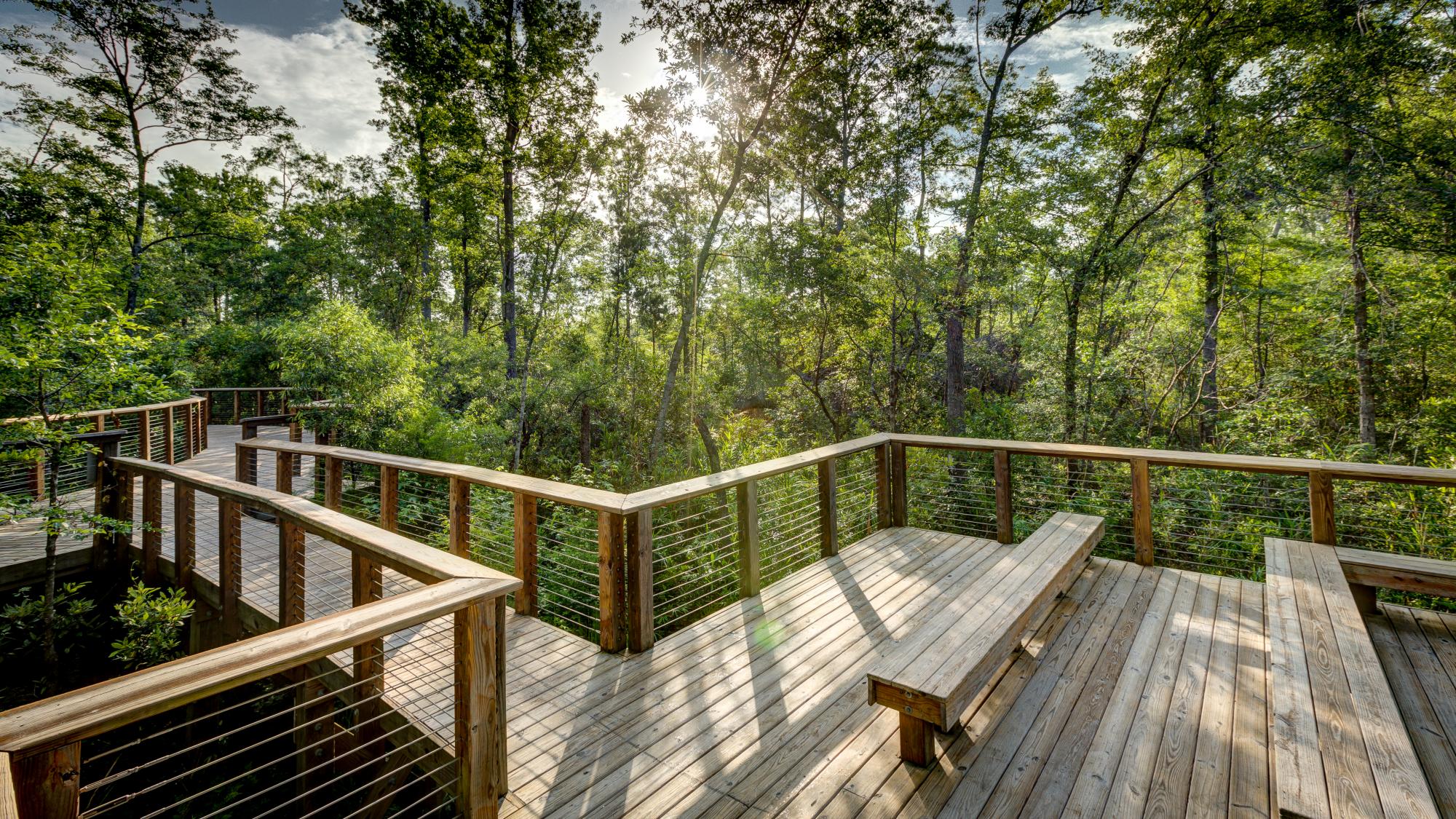 Westgate Nature Park can be found off Westgate Drive, which snakes around behind Walmart on U.S. 17. This park offers 0.3 miles of 10-foot-wide paved and elevated boardwalk trails, two age-appropriate and nature themed play structures, picnic areas, water fountains, pet water stations and pet waste stations, an event lawn, parking, and an outdoor classroom that offers opportunities to learn about Leland's coastal wetlands and ecosystems. In the playground and along the trail are fact sheets about wildlife and plants that are part of the area.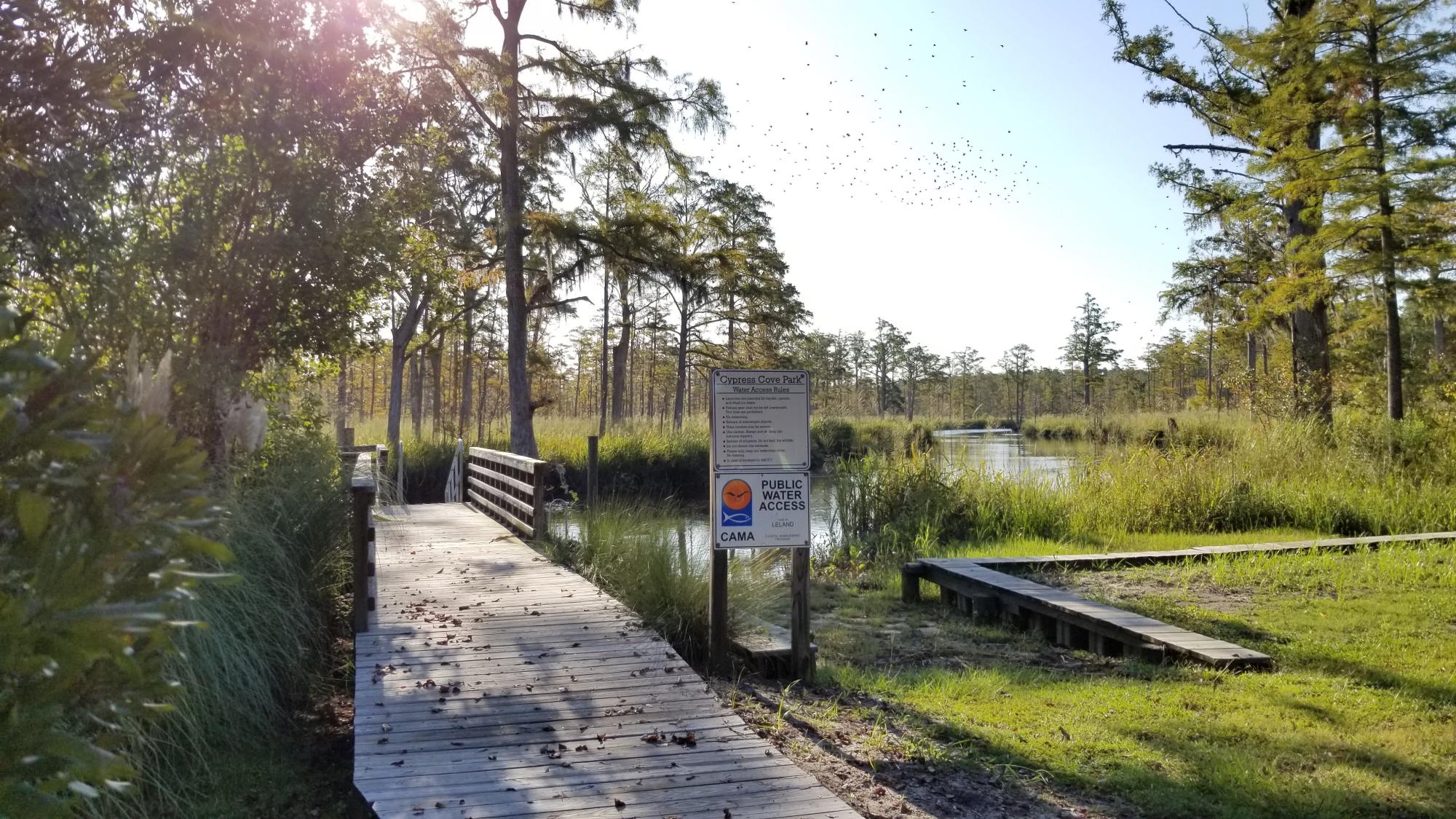 General Information
Cypress Cove Park is made up of 27 acres of wetlands donated to the Town in 2005 from Kirby Sullivan, and 1.2 acres of uplands acquired with a 2007 Coastal Waterfront Access Grant from the N.C. Division of Coastal Management. Formerly named Sturgeon Creek Park and located at 844 Appleton Way, the park is the first water access site for Leland. The access is designed for people to launch kayaks, canoes, and small Jon boats. The park features a canoe/kayak launch, floating dock, fixed deck overlook, a handicap accessible fishing area, fire pit, parking lot, and other amenities.
Rental Information 
Cypress Cove Park features a fire pit and surrounding seating that is available for rental for educational purposes and small gatherings. All fires must be contained within the designated fire pit and must be supervised at all times.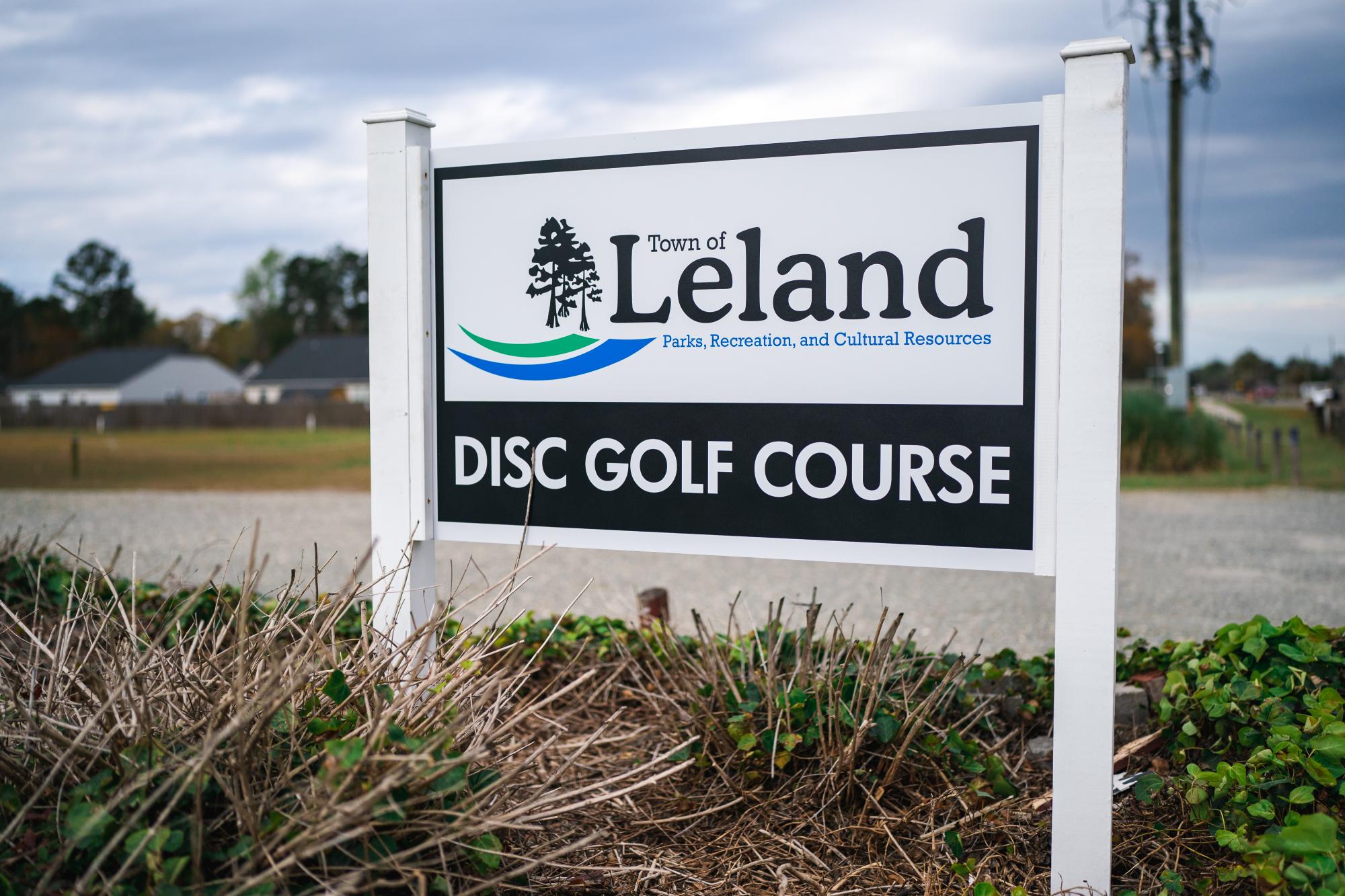 The Leland Disc Golf Park, located at 893 Village Road, has been one of the most requested parks and recreation amenities by the community. At just over 13 acres, the site hosts a 12-hole course that is a combination of open land and wooded area adjacent to Sturgeon Creek. It totals more than 2,900 feet in distance and features 11 par-3 holes and one par-4 hole. The park is open daily from sunrise to sunset.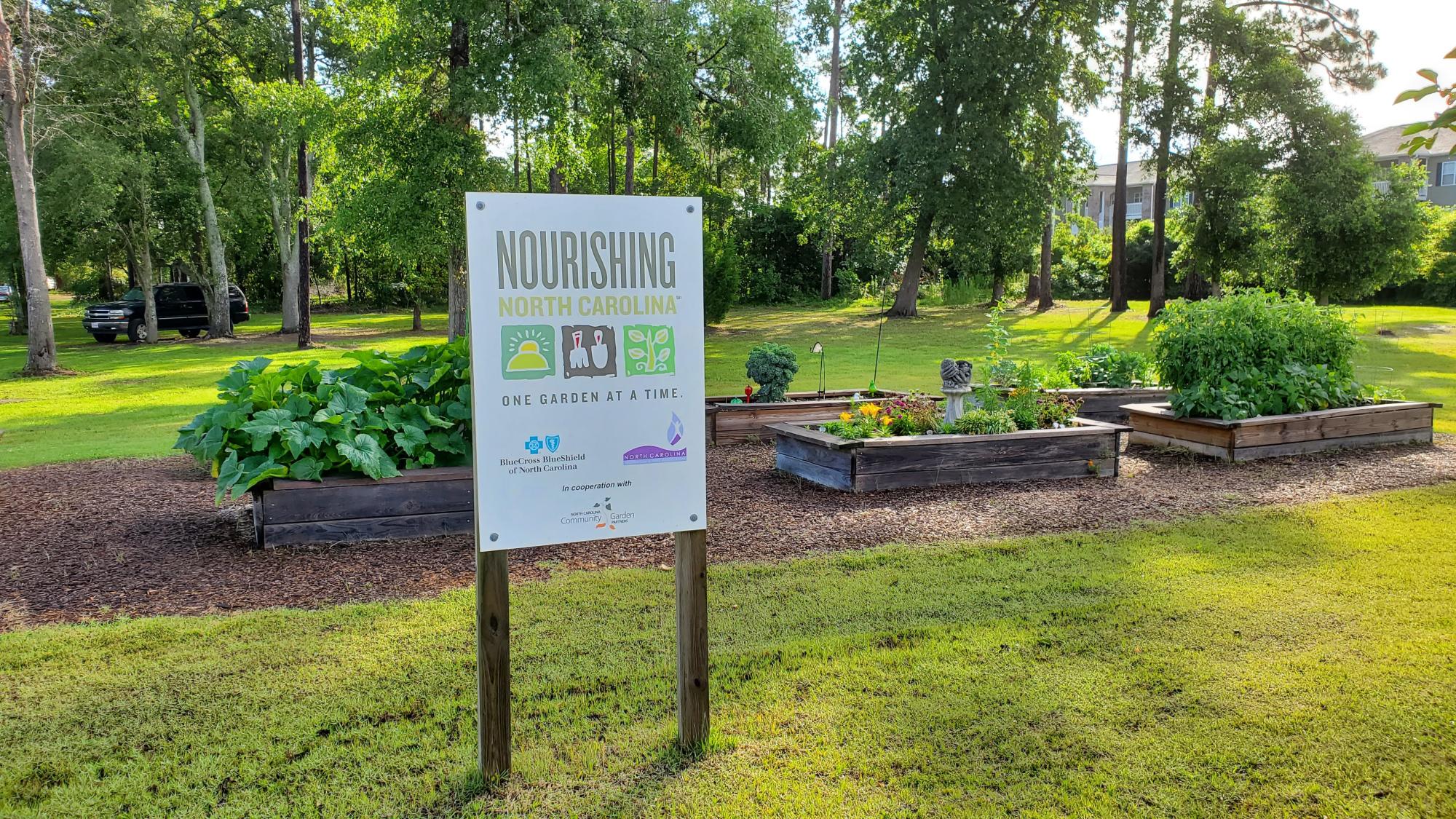 The Leland Community Garden, located at 102 Town Hall Drive beside Founders Park, gives residents the opportunity to grow their own food in a supportive, communal environment. Individual plots are available for rent ($5 per growing season or $10 per year). Water is available on site at no charge. Please call (910) 385-9891 to inquire about plot availability.
Community Garden Rules and Regulations 
S Navassa Road Leland, NC 28451
The currently undeveloped Sturgeon Creek Park is intended to serve as Leland's second water access park. With more than 78 acres, this park has the potential to become a destination facility both locally and regionally for sportsmen and water lovers wishing to gain access to Sturgeon Creek and the Brunswick River.
Sitting on Sturgeon Creek, the focus for this facility will be boating access from a potential N.C. Fish and Wildlife boat ramp as well as environmental education, preservation, and nature based activities. A small nature center for education and reservations is also planned for the site. Town Council adopted the Sturgeon Creek Master Plan in February 2020. Next steps for the project will be to move forward with engineering when additional funding is available.
Kay Todd Road Leland, NC 28451
At just over 32 acres, this future park site is a long and narrow track of land on Kay Todd Road in Brunswick Forest. Additional study of the land will be needed before its long term development can be considered. There are no immediate plans for this site.
8650 Trade Street Leland, NC 28451
At approximately 11 acres, this future park site sits adjacent to I-140 and the Windsor Park Subdivision. Additional study of the land will be needed before its long term development can be considered. There are no immediate plans for this site.
Leland Greenway
This project envisions a multi-use path connecting Westgate Nature Park (owned and operated by the Town of Leland) to Brunswick Nature Park, (owned and operated by Brunswick County). This linear park is in the concept stage.