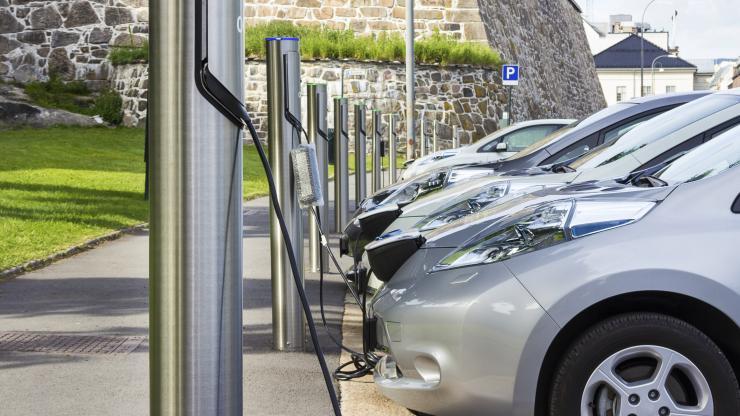 Two electric vehicle (EV) chargers will soon be installed next to Founders Park thanks to grant funding the Town of Leland has received.
The North Carolina Department of Environmental Quality Division of Air Quality's (DAQ) Level 2 Public Access Program will fund the zero-emission vehicle (ZEV) chargers. The Town will purchase a dual-port EV charging station and receive $10,000 in reimbursement.
"We're excited to promote the use of electric vehicles in our community," Budget & Strategy Manager Kelli Newton said. "The addition of the charging station will help lower emissions, provide cleaner air, support the Town's environmental initiatives, and provide a much-needed service to EV drivers who live, work, and visit Leland."
Founders Park, located at 113 Town Hall Drive, is a highly accessible location to the community and beach travelers. The charging station will be located close to Highway 17, the Town's Gateway District, Leland Middle School, and North Brunswick High School. The park is next to Town Hall, the Leland Police Department, the Brunswick Center at Leland, and the Leland Library. This central location is available for public use for a minimum of 12 hours per day without any restrictions.
Construction on the charging station is planned for January 2023. The Town will use the reporting data from the charging station to educate the community on the benefits of EV vehicles and to plan for future EV charging stations.
The Town will receive two of 59 new Level 2 charging ports the DAQ is awarding to 23 total sites across North Carolina.
According to a release on the NC DEQ website, these projects will enhance and extend the current ZEV infrastructure network in North Carolina to increase the use of clean ZEVs in place of gas-powered cars and improve air quality by significantly reducing emissions of nitrogen oxides, particulate matter and greenhouse gases.
Stay up-to-date with the latest Town of Leland news by following us on Facebook, Twitter, and Instagram.