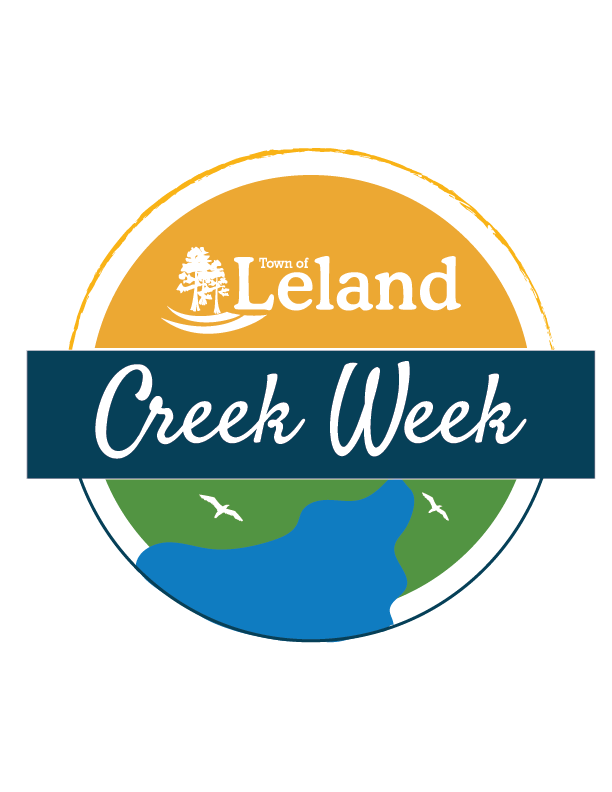 The Town of Leland is participating in the Clean Water Education Partnership's third annual Regional Creek Week March 18-25. Creek Week includes several events to engage the public on the importance of clean and healthy waterways.
Help keep Leland beautiful by volunteering alongside other residents cleaning up the future Sturgeon Creek Park as part of the Leland Green Sweep program. Equipment will be provided. Meet at the Leland Cultural Arts Center (LCAC), located at 1212 Magnolia Village Way, on March 22 at 9 a.m. There will be a presentation about stormwater and drainage, then participants can drive to the cleanup site. The event is free, but you must register online or in person at the LCAC.
The final event in this year's Creek Week gives you the opportunity to help permanently mark Leland's storm drains. Through the Town's partnership with Cape Fear River Watch, participants will permanently glue stainless steel markings to storm drains in the Westport community. Participants will also distribute door hangers describing the importance of keeping our stormwater free of pollution. This event will take place on March 24 from 10 to 11 a.m. and begin near the Westport Clubhouse, located at 875 Merestone Drive. The event is free, but you must register online or in person at the LCAC.
Town of Leland staff will be participating in a stream cleanup in the area of Westgate Nature Park and Jackeys Creek as part of Creek Week. Information to help educate the public will also be distributed throughout the week on the Town's social media accounts.
Learn more about Creek Week events on the Town website.
Please note: The previously scheduled Marine Organisms Big and Small lecture and Birding in Brunswick event have been canceled. 
Stay up-to-date with the latest Town of Leland news by following us on Facebook, Twitter, and Instagram.