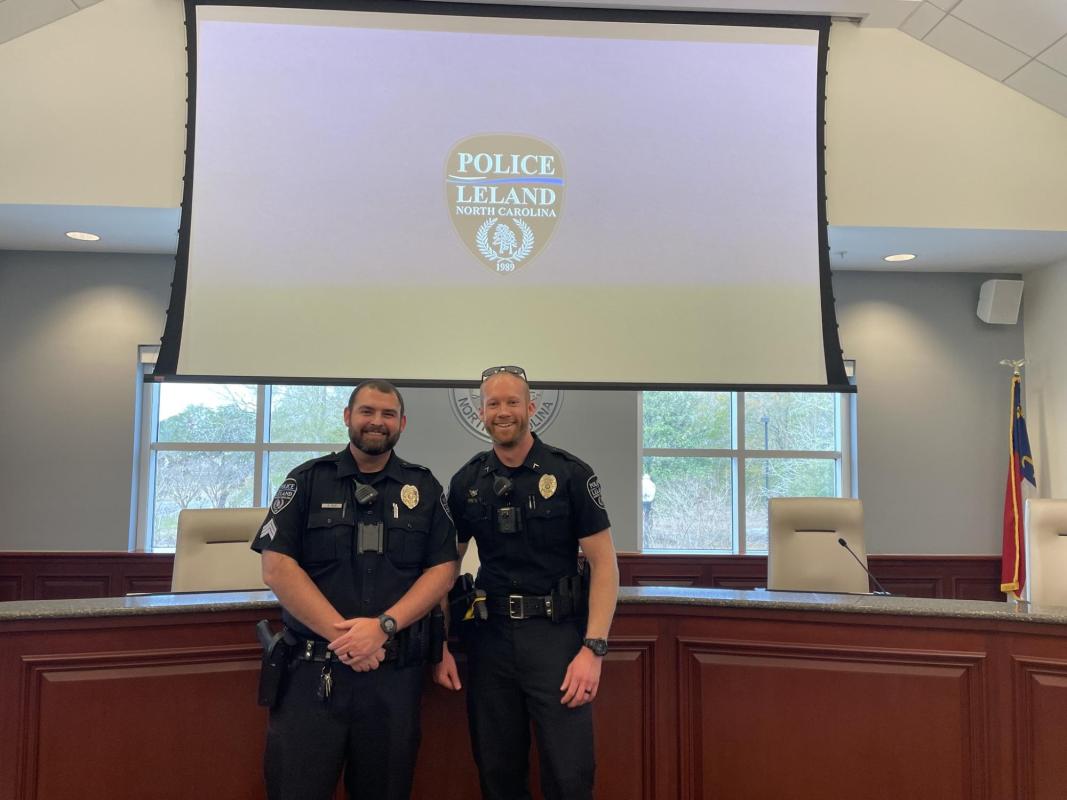 The Leland Police Department is recognizing officers for their contributions to the Town during 2022 with two annual awards: the Chief's Award and Officer of the Year.
The newly created Chief's Award is presented to an officer who has made significant contributions to the agency during the previous calendar year. All Leland Police officers show tremendous dedication to the profession day in and day out, but this award seeks to recognize effort that pushes past the norm and acknowledge impacts that set the department up for success. The Police Chief selects the recipient of this award after considering options presented by the command staff.
The recipient of the 2022 Chief's Award is Sgt. Bryan Reid. Sgt. Reid assisted in the complete overhaul of the agency's Field Training Officer (FTO) program several years ago. He wrote many of the protocols trainees and FTOs follow, and currently serves as the agency's FTO supervisor, overseeing the entire program. He ensures that the agency is exceeding minimum standards and setting our new officers up for success on the street. In 2022, Sgt. Reid continued this effort by seeking input from trainees and FTOs and making adjustments to better suit the agency.
Sgt. Reid joined the Leland Police Department in Aug. 2014. Prior to that, he spent more than a year and a half with the Reidsville Police Department. Sgt. Reid has served in both the Patrol Division and the Criminal Investigations Division.   
The Officer of the Year Award is presented to the officer who excels in law enforcement while modeling the Town's core values of respect, communication, engagement, supportive work environment, and service excellence. The officer's entire body of work for the previous calendar year is considered. This award is special because it is voted on by every officer in the agency under the rank of Lieutenant, meaning the recipient is chosen by their peers.
The recipient of the 2022 Officer of the Year Award is Tyler McElroy. Officer McElroy was selected by his peers because he consistently models the Town's core values while excelling at police work. He remains calm and collected regardless of the circumstances and can always be counted on to do more than what is asked of him. 
Officer McElroy has been with the Leland Police Department as an officer for seven years. Prior to that, he interned with the department while attending UNCW. He is a member of the Cape Fear Regional Special Teams as a SWAT operator and is currently assigned to the Patrol Division. 
Stay up-to-date with the latest Town of Leland news by following us on Facebook, Twitter, and Instagram.