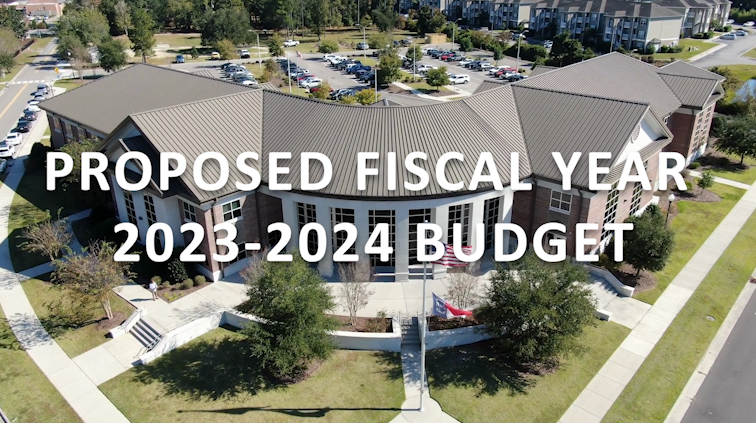 Town of Leland Town Council and staff have been working since last fall to compose a budget that meets the visions, goals, and objectives of the Council for upcoming fiscal year 2023-2024, which begins July 1, 2023. This process includes each department creating a budget for their service areas using zero-based budgeting techniques, meeting with management, forecasting revenues, reviewing capital projects, and balancing workload and staffing needs.
The proposed $42.8 million balanced budget reflects a decrease in the tax rate to 23 cents per $100 value, allocates $900,000 to the General Fund reserve for financial stability and future project funding, and proposes to increase fire fees to the statutory limit to close the gap between fire fee revenue and operating expenses.
Other highlights of the proposed budget include the following:
Four new Police patrol officer positions for a peak demand shift

One new Fire Logistics position

One new Safety & Training Coordinator position

Three new Public Services positions to assist with Infrastructure, Facilities, and Grounds

Seven new Planning and Building Inspections positions

Three new Internal Services positions to assist with Communications and Information Technology

10 Police vehicles for replacement and new positions

One Fire quick response vehicle

One Fire apparatus vehicle with an estimated delivery in September 2025

Traffic signal backup power project in coordination with the NCDOT

Asphalt paving machine and rubber tire backhoe for infrastructure improvements

Three additional pottery wheels and new kiln for enhancement at the Leland Cultural Arts Center

Reserve funding for Founders Park upgrades
Learn more about the proposed budget and what the highlights could mean for the community.
Town Council reviewed the proposed budget presented by staff at the Agenda Meeting on April 17 and will hold a public hearing during a Special Council Meeting on May 10 at 6 p.m. in Council Chambers at Town Hall, located at 102 Town Hall Drive. This meeting is open to the public.
Stay up-to-date with the latest Town of Leland news by following us on Facebook, Twitter, and Instagram.