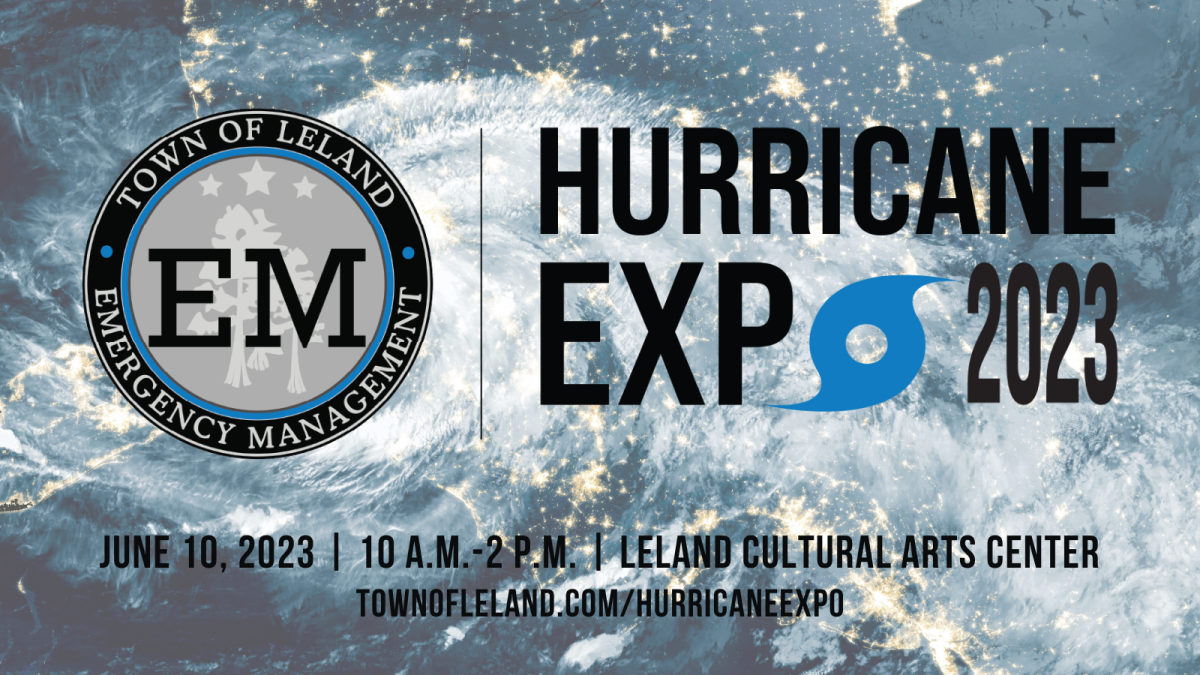 The Town of Leland will host its third annual Hurricane Expo on Saturday, June 10 from 10 a.m. to 2 p.m. at the Leland Cultural Arts Center, located at 1212 Magnolia Village Way.
The goal of the Hurricane Expo is to ensure residents are prepared for a potential hurricane by offering a one stop shop for emergency resources, answering any storm-related questions, and making key stakeholders and partner agencies available to citizens. Residents are invited to receive valuable information and training from local, state, and federal experts on what to expect and how to prepare ahead of the upcoming hurricane season.
Hurricane Expo workshops will cover the hurricane season outlook from the National Weather Service and flooding, insurance, and stormwater management. These workshops will be offered at 10:30 a.m., 11:30 a.m., and 1:30 p.m. A question and answer panel with Town staff and public safety officials will take place at 12:30 p.m. Submit questions for the panel to Emergency Management Chief John Grimes via email at jgrimes@townofleland.com.
"The time to prepare for a possible hurricane is now, and preparation begins with knowledge," Chief Grimes said. "Since its inception, the Hurricane Expo has proven to be a critical tool in ensuring thousands of our community members, whether brand-new or lifelong residents, are prepared for the potential impacts of hurricane season." 
The Hurricane Expo will include a touch-a-truck to allow community members to learn about fire engines and swift water rescue equipment. Other public safety agencies will also have apparatus on display throughout the day.
Town of Leland staff from Fire/Rescue, Police, Public Services, and Planning and Inspections departments will be part of the Hurricane Expo. Other participating agencies include Brunswick County Emergency Services, Brunswick County Sheriff's Office, Brunswick County Voluntary Organizations Active in Disaster, National Weather Service, Legal Aid of North Carolina, Red Cross, N.C. Cooperative Extension Agency, and WWAY-TV.
Stay up-to-date with the latest Town of Leland news by following us on Facebook, Twitter, and Instagram.