Volunteers Needed to Serve on Parks and Recreation Board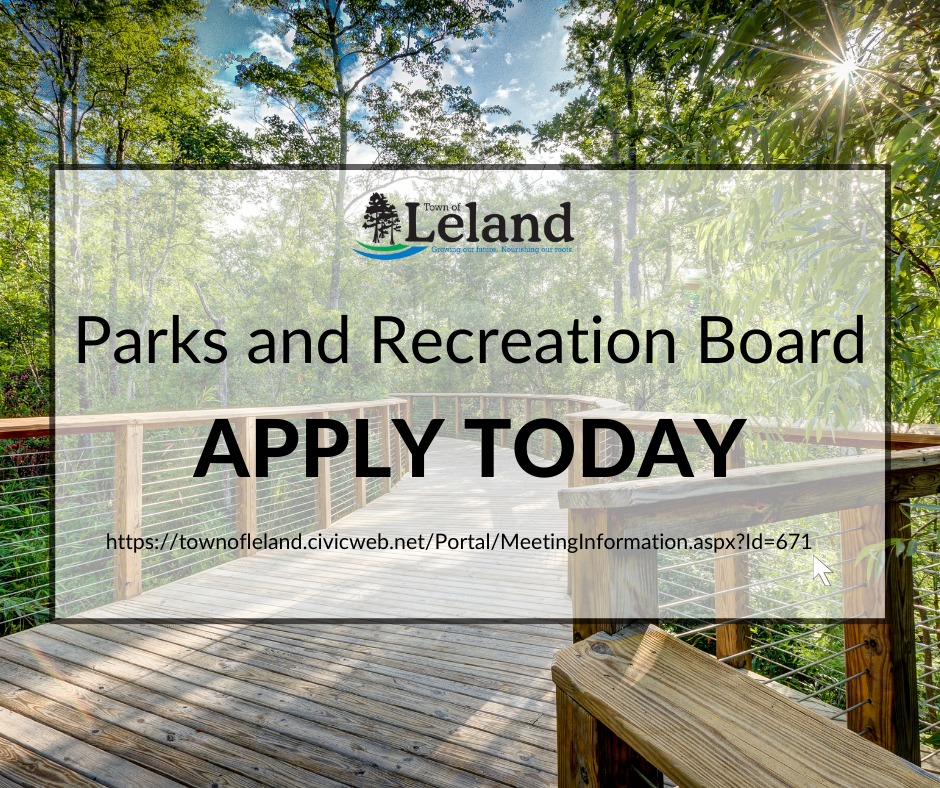 The Town of Leland is seeking volunteers to fill vacancies for a board member and student representative on the Parks and Recreation Board. Applicants must be Leland residents. The deadline to apply to become a board member is Jan. 31, which can be done through the government portal. Student representative applications are available on the Boards & Commissions webpage and will be open until positions are filled.
The purpose of the Town of Leland Parks and Recreation Board is to determine when park improvements are necessary, to review and recommend to Town Council a comprehensive parks and recreation plan for the Town, to commission recreation and parks studies, and to support and coordinate with staff in implementing any parks and recreation directives or plans approved by Town Council.
The board consists of seven members and meets the last Wednesday of the month on a bi-monthly basis. Board members serve three-year terms.
The student representative will attend Parks and Recreation Board meetings, serving on the board without voting rights. The student representative will be asked to give reports concerning activities and issues affecting young people, report on how they have shared meeting information, provide input on board issues as needed, ask questions, serve on subcommittees of interest to the student, and represent the board in a number of capacities and at community events. Upon written parental approval, the student representative and a student alternate will be appointed for two-year terms.
Town Council will review eligible applications at their February Council Meeting and the new board member will begin their term that same month. The student representative will start at the next regularly scheduled Parks and Recreation Board meeting following their selection.
Stay up-to-date with the latest Town of Leland news by following us on Facebook and Twitter.