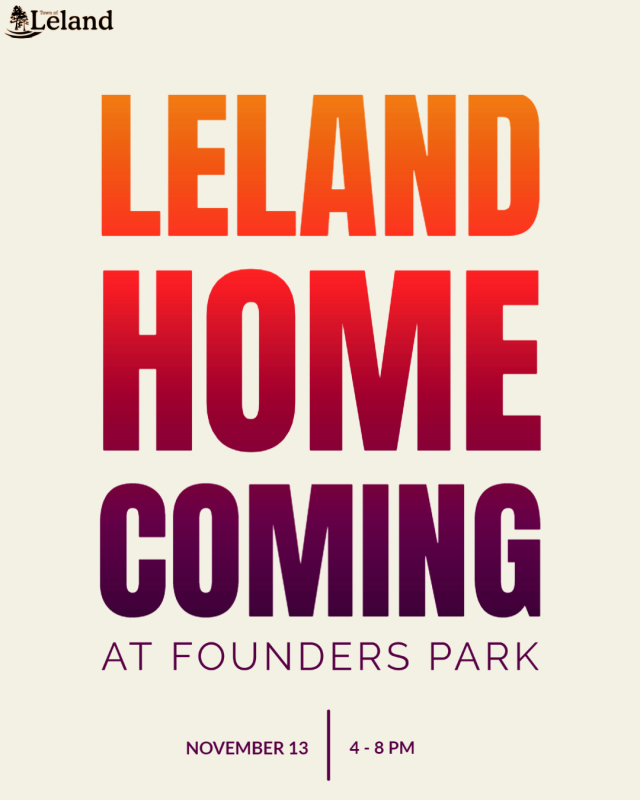 The Town of Leland is bringing together new, lifelong, and former residents for Leland Homecoming at Founders Park. The event, happening Nov. 13 from 4 to 8 p.m., is sure to be one you won't want to miss!
After a year of not being able to host events due to the ongoing pandemic, the Town decided to host a fall event to bring the community back together. Leland Homecoming is a time to celebrate the people in our Town, whether you're originally from here or have chosen to make it home. Bring your friends and family, make new friends, and spend time with one another.
"As a lifelong Leland resident myself, I have seen tremendous growth and change that has made our community stronger every step of the way," Mayor Brenda Bozeman said. "We're thrilled that so many people can now call Leland home, and can't wait to celebrate how far we've come and the people who have made that possible."
In the spirit of celebrating our roots, Leland Homecoming will feature live music from performers with ties to the area. The Graes, who are from Wilmington, will open for the The Hatch Brothers, who are from the Leland area.
The event will have something for everyone with a community art project, games and activities, and fireworks. Several food trucks will be on site including Poor Piggy's, T'Geaux Boys, Tasty Tee's Snack Shack, Jabba Creations, Snowies of the Carolinas, and Dixieland Kettle Corn. Coolers are welcome.
Parking will be available on site and at First Baptist Church of Leland. Check the Town of Leland events page for more information.
Stay up-to-date with the latest Town of Leland news by following us on Facebook and Twitter.