New State-of-the-Art Fire Engine Officially in Service at Leland Fire/Rescue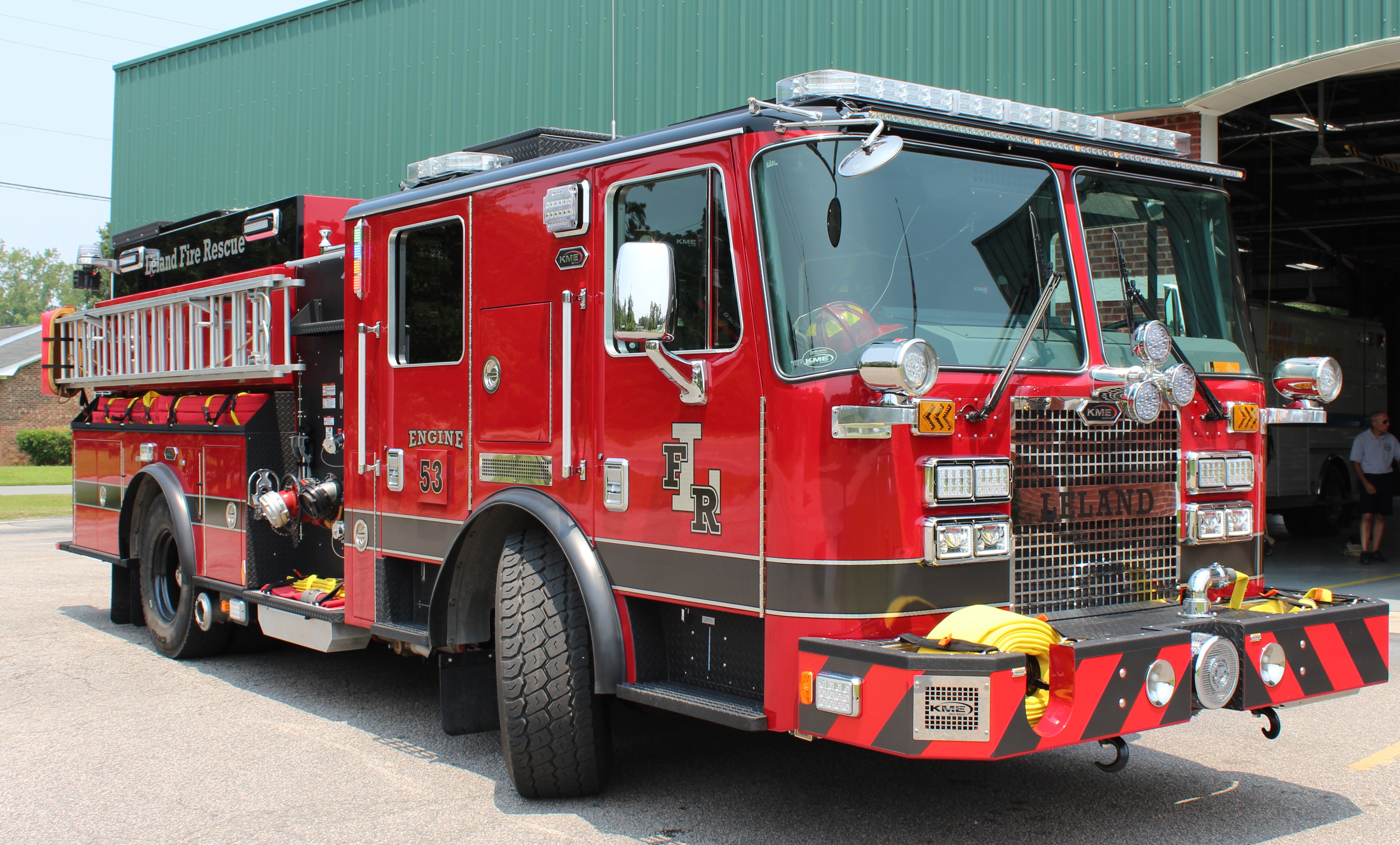 A new fire engine is officially in service at Leland Fire/Rescue. Engine 53 is a state-of-the-art truck that gives firefighters the ability to better serve the community in an emergency.
Engine 53 arrived in Leland in late April. Since then, the department has been working on mounting equipment and training personnel on how to operate it.
Leland firefighters helped design the new engine, with a goal of being as effective and functional as possible. The new model makes it easier to navigate in a variety of settings and streamlines the hoses. That gives firefighters more options and allows for more versatility, which is especially important with so much new construction in the Town.
The Severe Service Pumper, built by KME Fire Apparatus, is equipped with a Steertek steer axle system for maximum performance and comfort, 750 gallons of water, and a Waterous C20 1500 GPM Single Stage Pump. It's loaded with 2,500 feet of hose used to fight fire and get water from a hydrant to the fire engine.
"When we respond to a structure fire, everything we do, and everything we have trained and prepared to do when we arrive boils down to two main things: confining and extinguishing the fire and rescuing trapped victims. This new engine was specifically designed to accomplish those two objectives as effectively and efficiently as possible," Leland Fire/Rescue Chief Chris Langlois said.
On its first day in service, Engine 53 was the first fire truck to arrive at a house fire caused by lightning in the Grayson Park neighborhood. Leland firefighters were able to confine and extinguish the fire quickly, limiting it to the home's exterior and preventing it from spreading inside.
Engine 53 is currently being housed at Station 51. It will move to the new Station 53 once construction is completed.
Leland Fire/Rescue is preparing to welcome another new engine, Engine 51, which is expected to arrive in September.
Stay up-to-date with the latest Town of Leland news by following us on Facebook and Twitter.