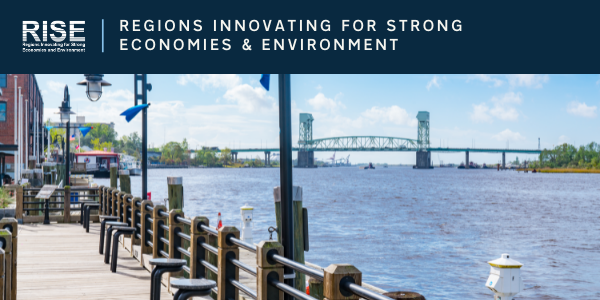 As the Town of Leland continues to focus on environmental resiliency, community members are invited to participate in the Regions Innovating for Strong Economies and Environment (RISE) Regional Resilience Portfolio Program.
The goal of this program is to identify ways to help communities in the Cape Fear region prepare and recover from natural disasters and climate hazards. The Cape Fear region includes Columbus, Brunswick, New Hanover, and Pender Counties. The program serves to develop a vulnerability assessment and a portfolio of priority resilience projects that reduce risk and increase resilience in the region.
There are three opportunities for public input for this project. Please use this survey to share specific problem areas that are vulnerable to climate hazards like storms. The results will inform the vulnerability assessment and the development of a portfolio of projects that enhance the region's resilience. This survey is open through April 18.
In addition, two virtual public workshops will be held to get your feedback. The workshops are scheduled for 10-11 a.m. and 6-7 p.m. on April 7. Register for a workshop here.
For more information, please contact Technical Advisor Lead JaLeesa Tate at jaleesa.tate@tetratech.com.
The Town is participating in the Cape Fear Regional Stakeholder Partnership of the RISE Regional Resilience Portfolio Program.
Stay up-to-date with the latest Town of Leland news by following us on Facebook and Twitter.