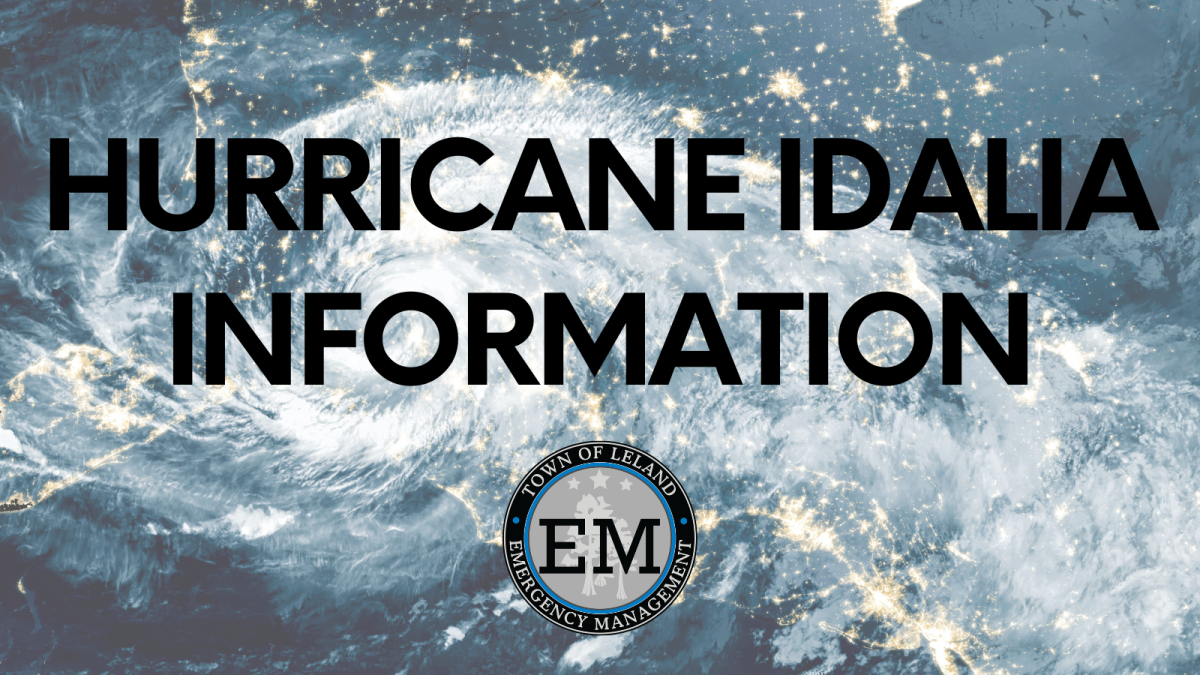 The Town of Leland is actively monitoring Idalia and preparing for its potential impacts. Please note the following due to the impending inclement weather:
Mayor Brenda Bozeman ended a State of Emergency for the Town of Leland, effective as of Thursday, Aug. 31, at 10 a.m.
The Leland Cultural Arts Center will be closing at 5 p.m. on Wednesday, Aug. 30. 
The Parks and Recreation Board meeting scheduled for Wednesday, Aug. 30, is canceled. 
All Town facilities will be closed on Thursday, Aug. 31. 
A summary of the latest briefing from the National Weather Service (NWS) Wilmington is below.
Aug. 30, 2023, 6:45 p.m. NWS-Wilmington Update:

The tornado threat continues across northeast South Carolina and southeast North Carolina into the overnight hours Wednesday into Thursday. Idalia will move from southeast Georgia to southeast of the Cape Fear region Thursday morning. Idalia will move offshore by Thursday afternoon and evening. Impacts are beginning to increase across northeast South Carolina and southeast North Carolina as the bands of rain associated with Idalia move northward. These impacts include:

Heavy rainfall and dangerous flash flooding
A few tornadoes and waterspouts
Some storm surge/coastal flooding
Gusty winds exceeding 40 mph (tropical storm force)
Strong rip currents and very rough surf
Hazardous maritime conditions
Residents are encouraged to examine their preparedness plans and be ready should they need to implement those plans.
Emergency Preparedness Resources
More preparedness tips are available through NC Emergency Management, Ready.gov, and the Red Cross.
If you have an emergency, call 911. The following resources may be useful during inclement weather:
Brunswick Electric 

Call (800) 682-5309
Text OUTAGE to (800) 682-5309
Report downed power lines: (800) 842-5871

Duke Energy

Call (800) 419-6356
Text OUT to 57801
Report outage using the Duke Energy App, available from a smartphone via Apple Store or Google Play 
Report downed power lines: (800) 777-9898

Brunswick County
Brunswick Regional Water & Sewer H2GO

After hours water emergencies: (910) 367-1537
After hours sewer emergencies: (910) 367-2084

NCDOT

NCDOT Information line: 511
NCDOT Division 3: (910) 398-9100

Red Cross: (910) 762-2683
Continue to check the Town of Leland website and social media accounts for ongoing information on potential closings and weather-related updates.
Stay up-to-date with the latest Town of Leland news by following us on Facebook, Twitter, and Instagram.